https://www.hust.edu.vn/en/news/campus-life/ten-hust-students-received-scholarships-from-ihi-corporation-193438.html
On February 27th 2017, Hanoi University of Science and Technology (HUST) held a scholarship awarding ceremony from IHI Corporation (Japan) for ten students of electrical and mechanical engineering majors who have made outstanding achievements in their studies (each scholarship is worth 600 USD).
The scholarship presentation was attended by Mr. Numazawa - Chief Representative of IHI Hanoi Office, Associate Professor Huynh Quyet Thang - Vice President, representatives from Schools of Electrical Engineering, Mechanical Engineering, Transportation Engineering and ten awarded students.
Speaking at the scholarship awarding ceremony, Assoc. Prof. Huynh Quyet Thang expressed his joy that after nearly three years, the provisions of the cooperation document between HUST and IHI Corporation have been realized through this activity. He also hopes the scholarships from IHI Corporation will be a great motivation to help each student strive to achieve high results in learning.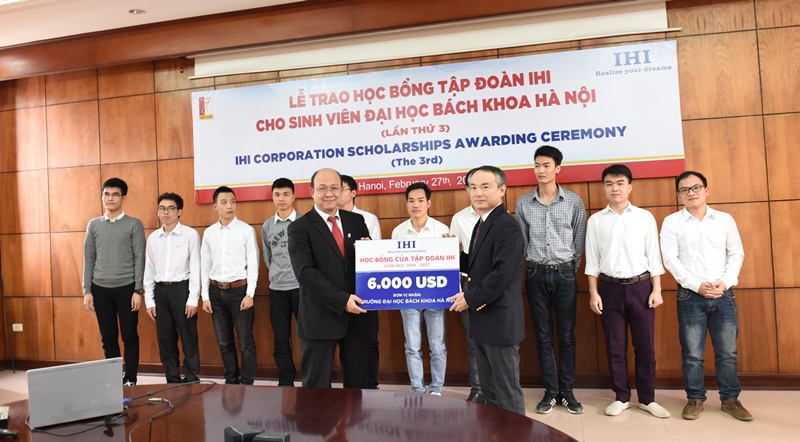 Vice President Huynh Quyet Thang (Representative of HUST) received scholarships
Mr. Numazawa believes that HUST and IHI Corporation will always maintain long-term and stable cooperation. He also hopes that this scholarship will contribute to realizing the dreams of each student in the future.
At the ceremony, the awarded students expressed their pleasure in receiving the scholarships and their deepest gratitude towards IHI Corporation and HUST.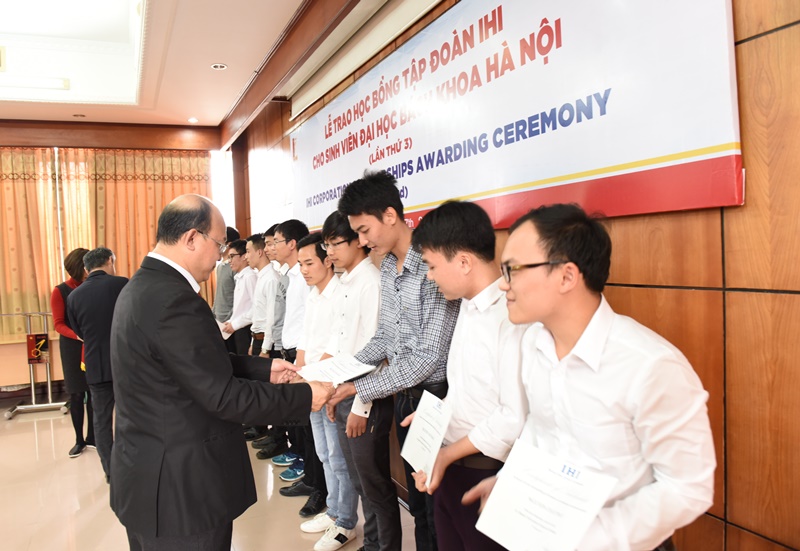 Vice President Huynh Quyet Thang and Chief Representative of IHI Hanoi Office Mr. Numazawa offer scholarships to students
In October 2014, Hanoi University of Science and Technology and IHI Corporation signed a cooperation agreement to promote training, scientific research and human resource development in key industrial sectors including resources, energy, environment and infrastructure. According to the agreement, the joint program will be implemented in education and training, resource development, annual scholarships for students, internship support, recruitment, etc. in accordance with common goals and interests. Initially implementing the cooperation agreement, IHI Corporation will offer full scholarships to ten excellent HUST students for three consecutive years.
Some information about the IHI Corporation
IHI was established in 1853 in Tokyo, Japan. It is the pioneer in Japan's heavy industry.

Currently, IHI operates globally with a network of 259 consolidated companies, with approximately 27,500 employees worldwide.

A number of IHI projects have been completed in Vietnam: Nhat Tan Bridge Construction Project (inaugurated and put into use in early 2015), Binh Bridge Project (Hai Phong), Renovation of Hanoi railway system Project, factory for IHI Infrastructure Asia Co., Ltd in Dinh Vu Industrial Zone - Hai Phong, etc.
Sang Nguyen