HUST Newsletter issue 8
2023-04-04T07:14:19-04:00
2023-04-04T07:14:19-04:00
https://www.hust.edu.vn/en/news/news/hust-newsletter-issue-8-653865.html
https://www.hust.edu.vn/uploads/sys/news/2023_04/coverweb.jpg
Hanoi University of Science and Technology (HUST)
https://www.hust.edu.vn/uploads/sys/logo-website02_136_200_1.png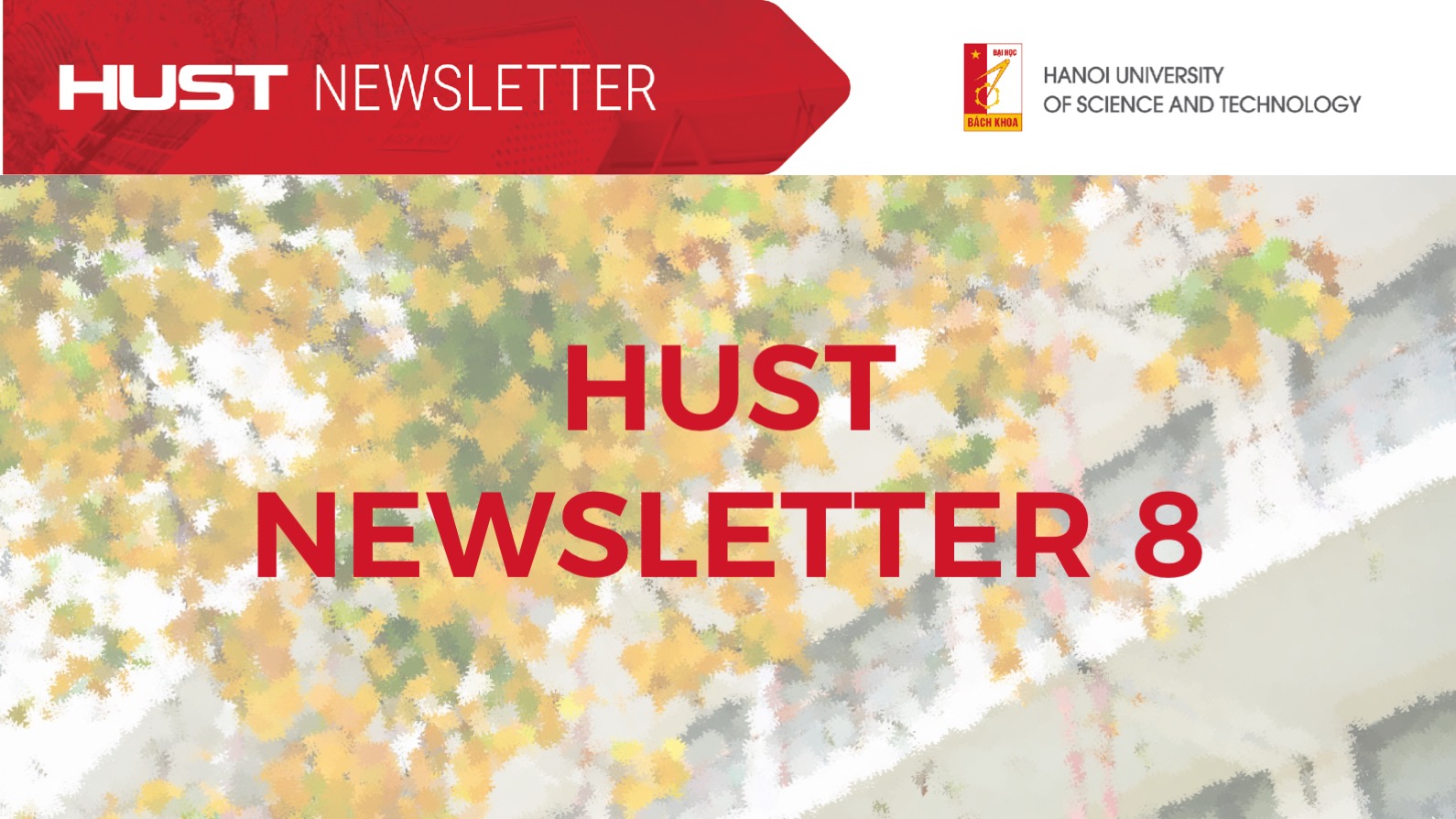 This issue will cover some background information about HUST's lecturers, international students, and international affairs activities.
The spring trip of the HUST international student community provides chances to experience local life and achieve cultural harmony.
On January 9th, a delegation of the Ministry of Commerce of Victoria State and Monash University (Australia) visited HUST. This trip was expected to open up cooperation relationships between HUST and Victoria State University in general and Monash University in particular.
Prof. Le Minh Thang - Senior Lecturer in the School of Chemical Engineering, Hanoi University of Science and Technology shared: What motivated her to complete the application for the Kovalevskaia Prize is to encourage HUST talented women to participate in many scientific playgrounds, bringing their research closer to society.
Kim Chan Joong, CEO of CelluFab, affirmed the cooperation with Hanoi University of Science and Technology is a typical example of developing advanced green technology, contributing to environmental protection and global reduction of carbon emissions.
On 13th March 2023, a cooperation agreement was signed by Assoc. Prof. Huynh Quyet Thang – HUST President and Mr. Slim Khalbous - General Director of Francophone University Agency (AUF) to establish the Francophone Digital Education Center (in French: Campus Numérique Francophone, CNF), placed in HUST's campus, called "CNF Hanoi". "CNF Hanoi" is among the 5 CNFs in Asia and it is the 2nd CNF in Vietnam, after the ones in Ho Chi Minh City. CNF Hanoi is installed on the 2nd floor of Ta Quang Buu Library, HUST.
The Announcement Ceremony of the Decision on Establishment of the Joining and Welding Research Institute HUST-OU was solemnly held this morning, January 10, 2023, to start a meaningful series of activities to celebrate the 50th anniversary of the establishment of diplomatic relations with Japan - Vietnam.

HUST LECTURERS FROM THE MOST PRESTIGIOUS UNIVERSITIES IN THE WORLD
Assoc. Prof.
Phạm Văn Sáng

Massachusetts Institute of Technology (MIT) & National University of Singapore (NUS)

Assoc. Prof. Nguyễn Thị Hồng Minh

KU Leuven University

MS Phạm Hoài Anh

Cambridge University

"I felt the scientific atmosphere in every university's corner" - Assoc. Prof. Pham Van Sang, Vice President of the School of Mechanical Engineering.
"Applicability is the soul of scientific research" - Assoc. Prof. Nguyen Thi Hong Minh - Lecturer at the School of Mechanical Engineering, Deputy Head of the Research Management Department.
"I am being more understanding, more mature and having a different view of everything around me" - Ms Pham Hoai Anh - Vice President of the School of Foreign Languages.
read more >>
read more >>
read more >>
GALLERY: HUST'S INTERNATIONAL CULINARY FESTIVAL
To celebrate International Women's Day, Hanoi University of Science and Technology organized a joyful and meaningful culinary festival for HUST's female lecturers and staff. This event introduced the typical cultural and culinary beauties of 7 countries: The US, Russia, France, Belgium, Australia, Japan, and Korea.
Copyright © CCPR, HUST. All rights reserved
Room 321, Ta Quang Buu Library, Hanoi University of Science and Technology

Our mailing address is:
Ccpr@hust.edu.vn