https://www.hust.edu.vn/en/news/campus-life/hust-joins-forces-to-promote-technology-transfer-and-commercialization-578213.html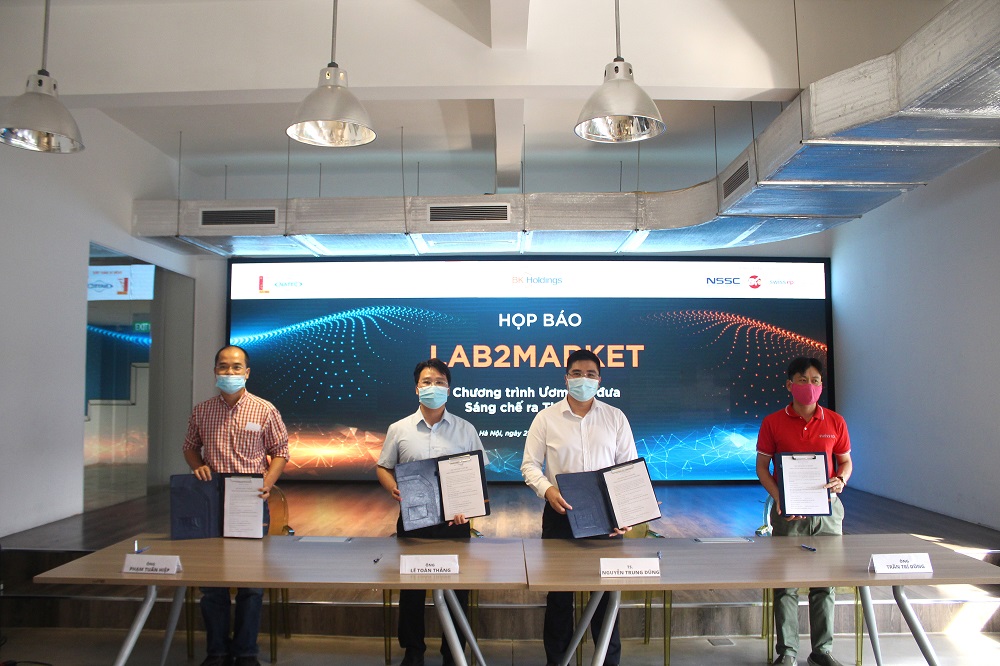 The Lab2Market, the first incubation program that helps commercialize research results in Vietnamese universities, has officially launched. Its mission is to supervise scientists some problems associated with running a business and help them expand net workings so that they can put their owned products on market.
Lab2Market is an incubation program which aims to bring research results to market as well as connect scientists with businesses and investment funds. By joining the program, researchers are guided by mentors who are experts, successful entrepreneurs, and investors. Hence, they can overcome business challenges from completing fundraising profiles, coming to grips with business aspects, to approaching potential investors.
The program is organized by BK Holdings, a HUST affiliated company and co-organized by BK Fund which is an investment fund of HUST Alumni, National Startup Support Center, and Swiss Entrepreneurship Program. The Lab2market program targets the scientists in universities who successfully created prototype products and owned intellectual property protection.
"Lab2Market is a pioneer in establishing a sustainable ecosystem so that scientists in Vietnam can collaborate with investors and entrepreneurs to put products on markets and develop their businesses," said Pham Hong Quat, director of National Agency for Technology Entrepreneurship and Commercialization Development.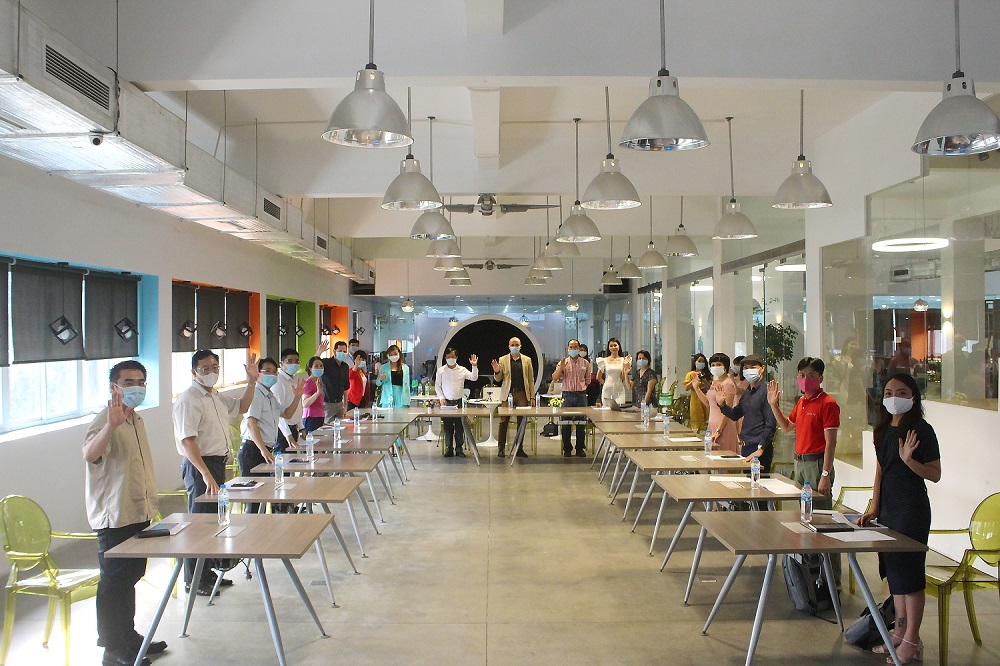 Press Conference on the launch of the Lab2Market program held on 21 May, 2021 at BKHUP Co-working Space (Photo by CCPR, HUST).
As a leading university in science and technology in the country, HUST plays the role in commercializing technology products and inventions. Within 10 years between 2010 and 2020, HUST signed many contracts with businesses, which aims to transfer technologies developed by the scientists of the university to the companies. Thanks to the technology movements, HUST gained annual revenue of about VND25 million (US$1.1 million) including the scientists' research allowances.
The cooperation with Rang Dong Company significantly demonstrates an effective cooperation model. The collaboration aims to research and develop technologies so that Rang Dong can manufacture "Make in Vietnam'' products which are ideated, designed, and used Vietnamese technologies to produce in Vietnam. It is expected that HUST will transfer technologies to help Rang Dong change production model. Instead of applying foreign machines, Rang Dong can move to using domestic production lines, and technologies which are transferred from HUST scientists.
Rang Dong Light Source and Vacuum Flask Joint Stock Company, which has officially operated since 1958, takes lead in key segments such as lighting products, electrical appliances, glass products, and vacuum flasks mainly for the domestic market, according to Hanoi Industrial and Trade Portal. In 2017, Rang Dong provided 18 million LED lighting devices for Vietnamese customers and obtained total revenues of more than VND1.2 trillion (US$52.3 million).
On the Vietnamese stock market, Rang Dong stock code is one of the largest capitalization stocks, so it brings stable profits to investors with a high growth rate. In 2020, the business achieved net revenue of VND4.9 trillion (US$214.4 million), a growth of 15% compared to the same period last year. Notably, the profits after tax increased by 2.6 times to VND336 billion (US$14.6 thousand), according to Rang Dong annual finance report. Rang Dong also was honored in Top 50 listed enterprises in Vietnam by Forbes Vietnam and ranked 2nd in consumer goods sector of the list.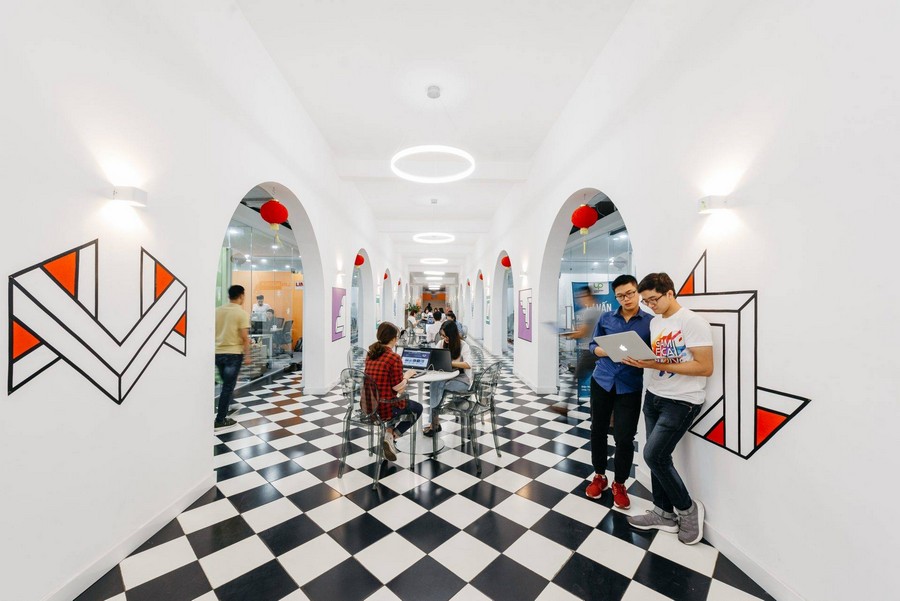 BKHUP Co-working Space opens up opportunities for scientists to work and expand their networkings (Photo by UPGen).
"I wish that HUST, a leading university in science and technology in Vietnam, will support Rang Dong in digitizing as well as building a new factory in Hoa Lac to become the first smart factory in Vietnam," Associate Professor Nguyen Van Minh, Leader of Rang Dong's Digital Transformation Advisory Group said.
HUST built an innovation ecosystem to boost innovation creativity within the university. If researchers wish to bring their research results into market as well as establish their startup companies, they will be supported by the HUST innovation ecosystem including many models to help researchers realize their potential ideas.
"Our ecosystem has adjusted and grown greatly over the past 10 years. We have examined more models at many research universities from Europe, South Korea, Japan, and other countries," HUST's President Huynh Quyet Thang said in an exclusive interview with the university's magazine earlier this year.
BKHUP was launched with missions to connect potential students with investors. It is known as a focal point for both researchers and investors to work, meet, and communicate with each other so that those who are seeking opportunities for their products can expand networks to call investment. This is the university's first innovative startup co-working space with a total floor space of 1,300 square meters with modern equipment.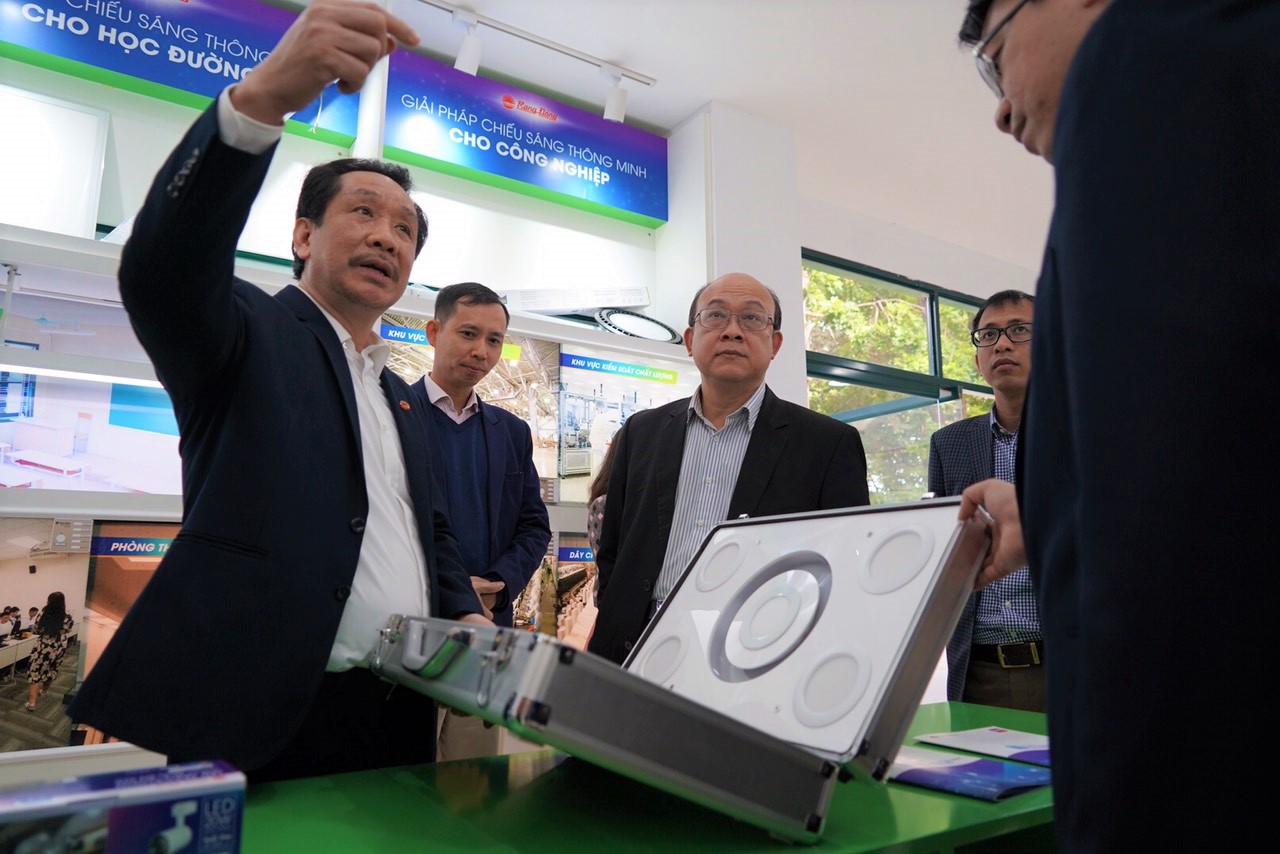 HUST President Huynh Quyet Thang listens to Nguyen Doan Ket, Vice Chairman of Management Board of Rang Dong JSC talking about the company's smart lighting technology (Photo by Hanh Pham, CCPR).
BK Holdings Company which is a HUST affiliated enterprise has missions to mobilize resources of government, organizations, businesses, and individuals so that they can join the research process, incubation, and commercialization of the university's science and technology products. Hence, scientists can become capital and wisdom contributors as well as make efforts in developing startup companies.
Also, BK Fund was founded to provide financial support for potential research and startup projects. To this fund, investors mainly are the university's alumni and those who are HUST scientists, students, and faculty members can call for investment. If researchers are invested, they will have more opportunities to successfully put innovative ideas into practice and solve financial problems while running their companies in order to make profits.
As a bridge linking funds with owners of ideas and products, Technology Transfer Office at the university assists HUST organizations such as BKHUP and BK Fund in calling more funds; and helps seek more opportunities to transfer technologies between HUST scientists and enterprises.
In Vietnam, the commercialization has not been implemented effectively, which leads 80% of Vietnamese enterprises to manufacture with old technologies. Doctor Pham Hong Quat asserted that the Lab2Market program will be a pioneer in shaping a sustainable ecosystem to help Vietnamese scientists develop their products and put their research results into practice.
Reporting by Dieu Ngoc
Translating by Tran My Hanh