https://www.hust.edu.vn/en/news/campus-life/hust-expands-cooperation-in-chemical-and-agricultural-manufacturing-624193.html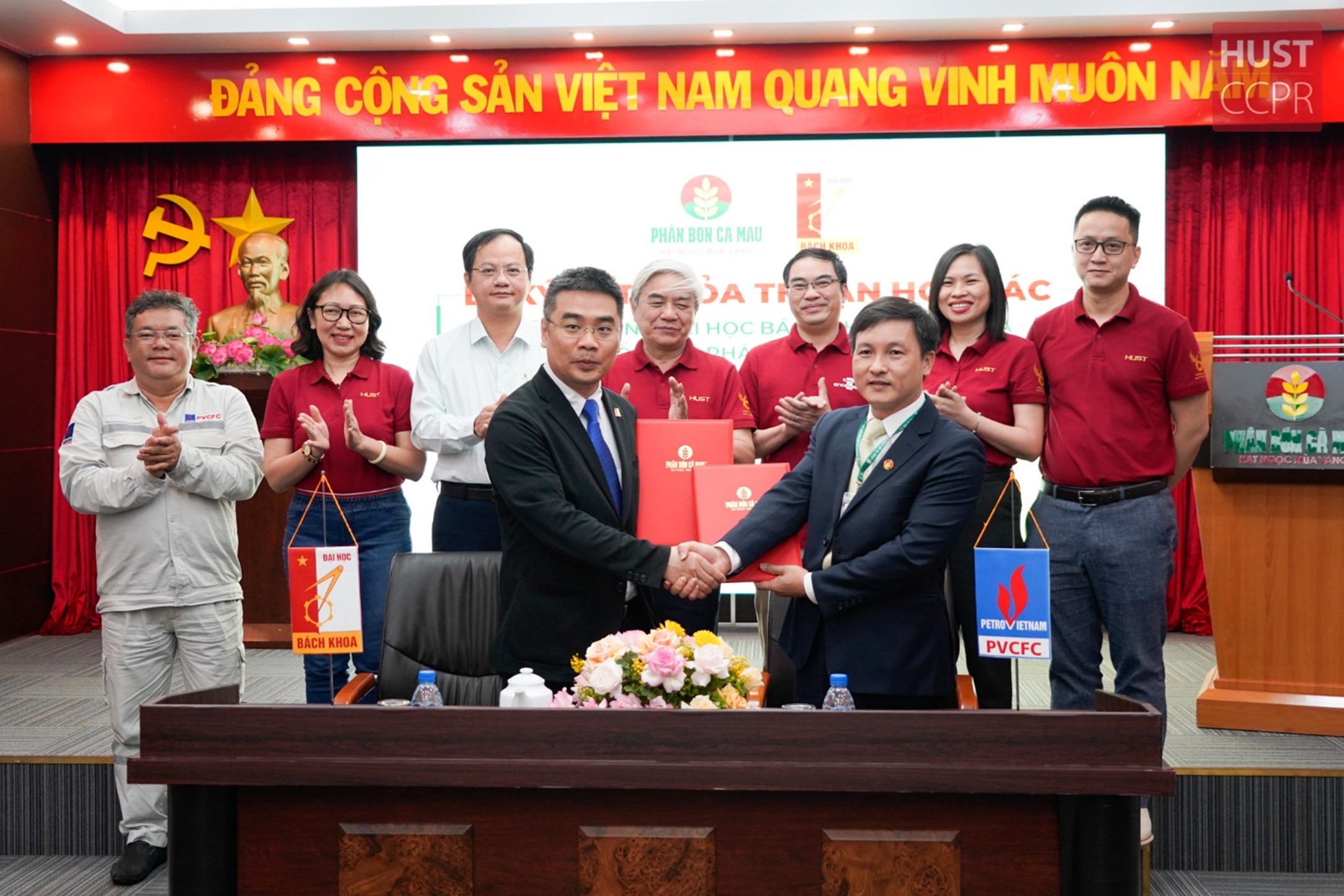 Hanoi University of Science and Technology (HUST) and Petrovietnam Camau Fertilizer Joint Stock Company (PVCFC) signed an agreement about the affiliation in terms of education, research, and technology transfer.
On 31/3 morning, HUST and PVCFC signed a strategic agreement, focusing on educational activities, communication, scientific research, and technology transfer in fertilizer and chemical manufacturing.
Regarding education, HUST will collaborate with PVCFC to build educational curricula and organize seminars to share practical knowledge and experience. PVCFC will support HUST students with scholarship and employment opportunities, aiming to build up high-quality labor in the fields of fertilizer, petroleum chemicals, and agriculture.
Regarding scientific research and technology transfer, both sides agreed to bilaterally carry out scientific research on topics related to fertilization, plant protection, and the environment.
At the signing ceremony, Assoc. Prof. Huynh Dang Chinh, Vice President of HUST, emphasized that this collaboration has comprehensively connected 3 factors: humans, researching products, and the stakeholders. These are the key elements for the development strategy of HUST.
Mr. Nguyễn Thanh Tùng, Deputy General Director of PVCFC affirmed that the collaboration with HUST will create substantial value in labor quality, research, and technology transfer.
The delegation of HUST visited Camau Fertilizer Plant on March 31, 2022
Also on this occasion, HUST Alumni Network launched HUST Alumni Office at Ca Mau province. Dr. Nguyễn Quân, Chairman of HUST Alumni Network expected to create a larger and closer network to strengthen the cooperation between the University and Industry.
EAO - HUST