https://www.hust.edu.vn/en/news/campus-life/hust-alumni-contribute-over-100-new-computers-to-disadvantaged-students-513744.html
On the morning of April 24th, representatives of HUST's Alumni Golf Club presented 100 new computers to the university and students' representatives. Furthermore, 10 computers from the Netnam Company and 2 computers from the FOSS Development and Services Joint Stock Company were also sent to disadvantaged students.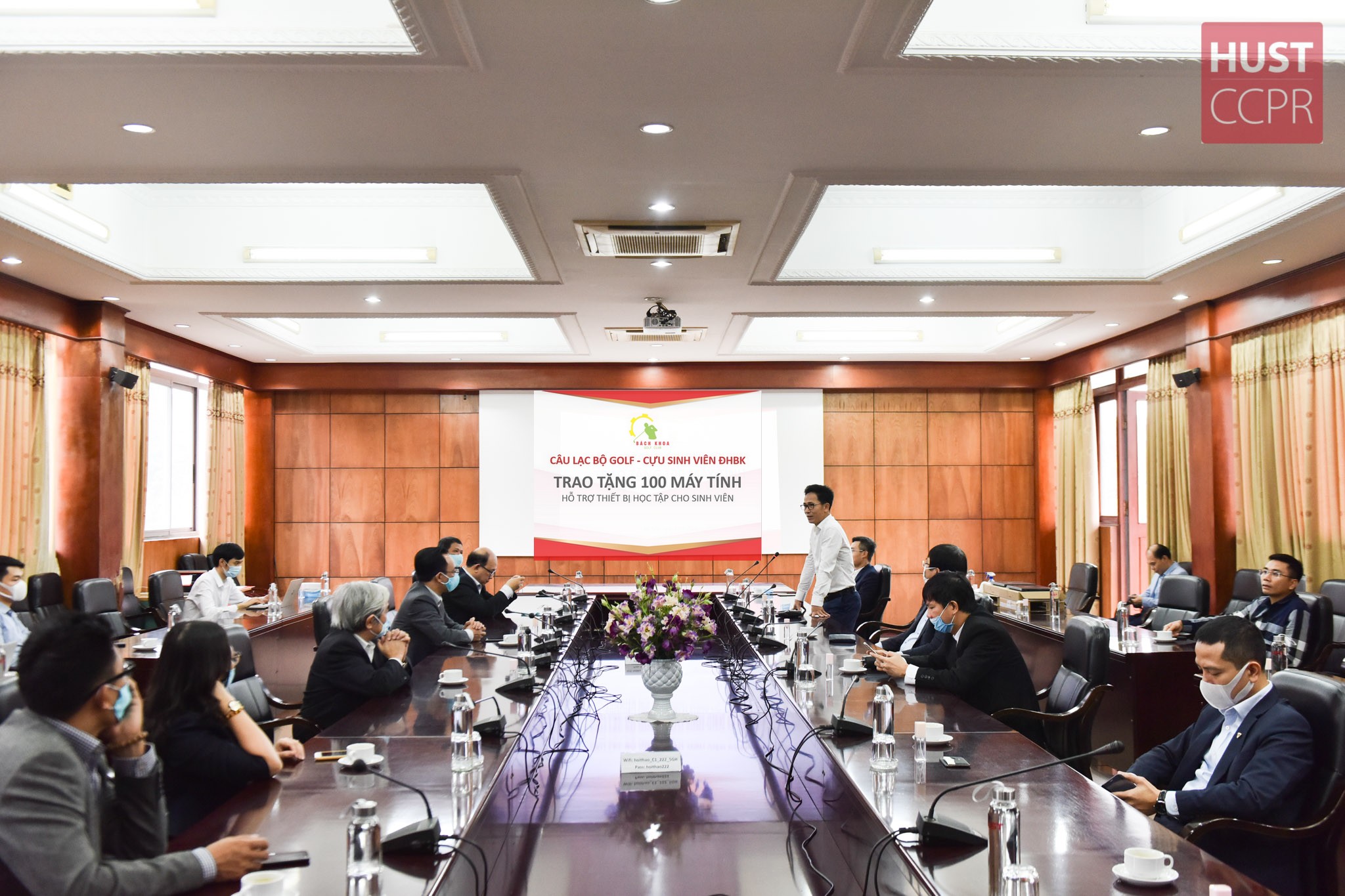 It is known that after the call to donation spread around in the club, up to now, there have been 34 business units contributing new computers to HUST. In the speech at the ceremony, Mr. Duong Quoc Tuan, President of Hanoi University of Science and Technology's Alumni Golf Club affirmed: "In spite of different status and different circumstances, every HUST-er (though graduated) will always look towards HUST and retain the deepest and most genuine affection for this place ". The Club's representative also believed that this valuable and meaningful gift would help many disadvantaged students, ensuring the quality of the University's teaching in this difficult time.
"Students are not as deprived as they used to be, but only when visiting student's home, can we see with our own eyes that many Vietnamese families are living in such poor conditions. HUST's people always maintain good traditions. We are touched since we have never been able to call for the support from so many people in such a short time" - said Hanoi University of Science and Technology President - Mr. Hoang Minh Son. His sincere and touching words moved some attenders to tears, making the room cozier and warmer with love.
Representatives of the students who received computers from the alumni, Le Van Hoang - Student of K61 School of Mechanical Engineering - sent thanks to the philanthropists. Hoang confided that, because his poor family was ethnic, he had to earn a living by himself, while studying, working, and volunteering at the same time. Thus, even though he is a 4th year student, Hoang has not been able to buy a computer. The computer given to him today is not only a learning tool but also a motivation for Hoang to learn and strive. Holding a computer in his hand, Hoang hopes he can return to the University later to contribute to other disadvantaged students.
On the same morning, a handover of computers from Netnam Enterprise and FOSS Development and Services Joint Stock Company to disadvantaged students was held. It is known that after receiving information via the University Alumni network, leaders of the two corporates quickly contacted the University to provide contribution and support for students in difficult circumstances.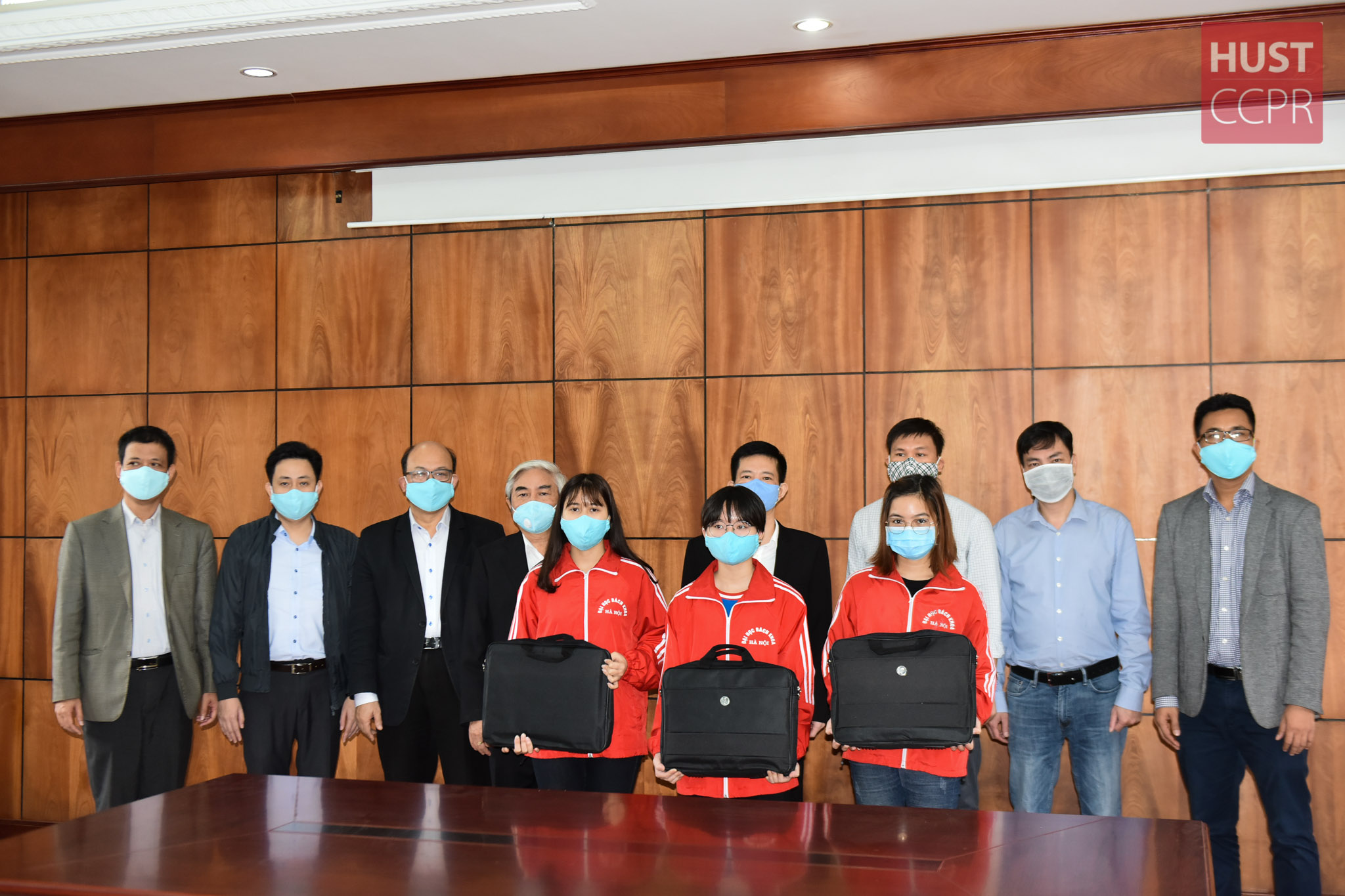 Nguyen Viet Hung, an alumnus of the School of Electronics and Telecommunications, representative of Netnam Company, said that computers are essential learning tools in the technology era. Feeling moved after attending the ceremony, he wished to continue to accompany the school to for further contribution on his/ the company's side towards other university activities in the future.
Mr. Nguyen Quan - Chairman of HUST Alumni Network - was extremely happy and grateful to receive the support from alumni. He said that as an alumnus of HUST himself, he felt responsible for the future of this university. He also hoped that alumni would always paid attention to the HUST's activities.
These are the noble actions and sentiments of the alumni sent to the next generations, the students of HUST. These computers will be quickly delivered to in-need students to ensure the quality of online learning.
Thu Trang