https://www.hust.edu.vn/en/news/news/forging-vietnam-uk-higher-education-collaboration-for-sustainable-community-development-653874.html
"The commitment to community-driven sustainable development is a top priority for the Vietnam-UK Higher Education Network (UK-VN HEP) and also Hanoi University of Science and Technology in the coming period." This is the highlighted by Dr. Bui Thi Ngoc Thuy, Deputy Head of the External Affairs Office at Hanoi University of Science and Technology during the meeting with representatives from Hoa Binh College of Education.
During the session, the delegates from the UK-VN HEP network were introduced to a successful collaboration between Hanoi University of Science and Technology (HUST) and its UK partner. The project, namely "A Community-Centred Educational Model for developing Social Resilience" (ACES), is a great model of cooperation between Coventry University, HUST, and other Southeast Asian institutions. The project receives funding from the UK Research and Innovation and the Economic and Social Research Council under the Global Challenges Research Fund. ACES aims to explore the impact of transformative education using playful methods, with a specific focus on engaging young individuals in Malaysia, Vietnam, and Indonesia. Through a series of training workshops and action research, ACES provides innovative pedagogical approaches and toolkits related to gamification, playful learning, and frugal education, benefiting teacher educators, teachers, and students.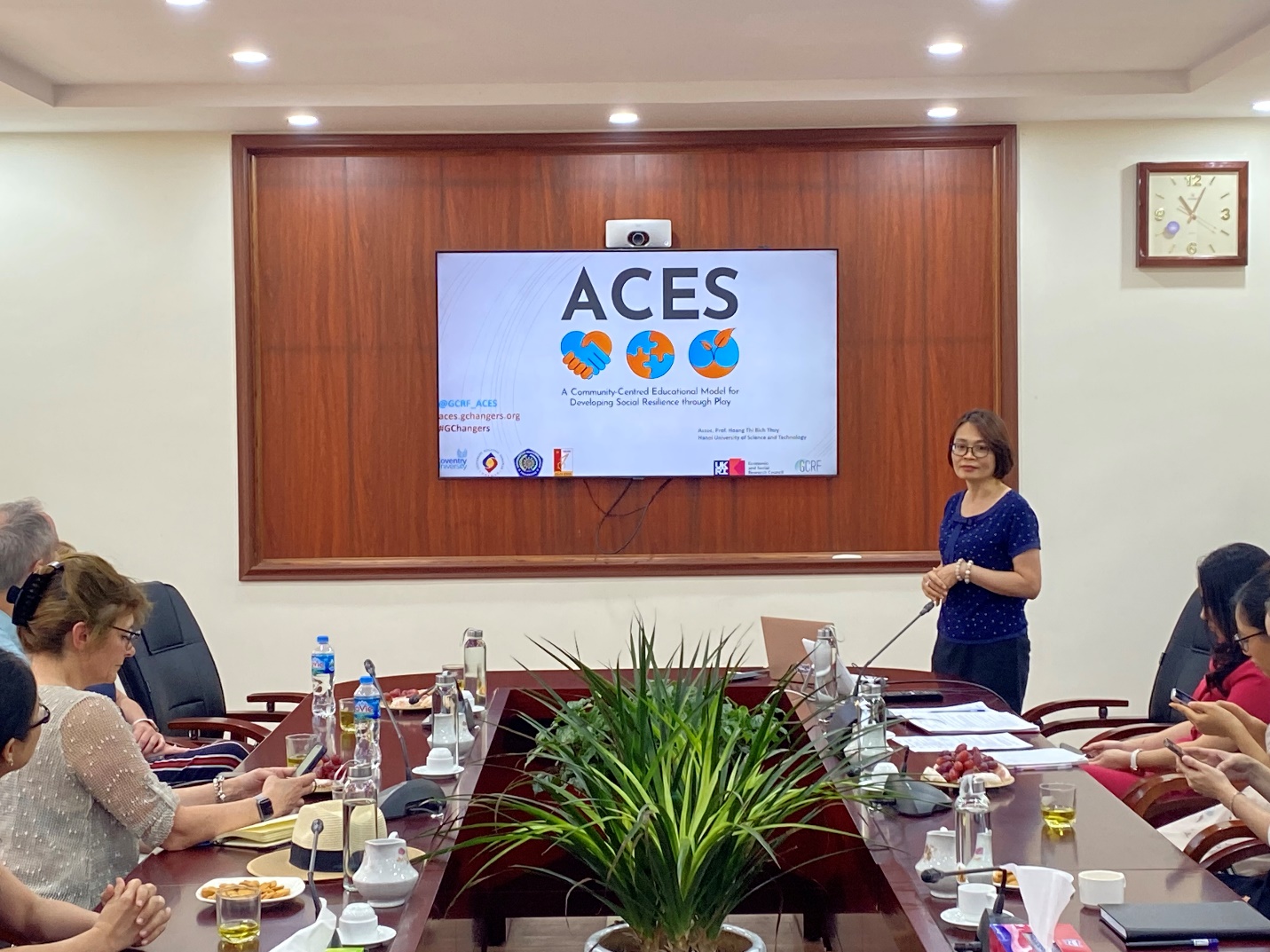 Speaking about the impacts of ACES project to the local community, Ms. Nguyen Le Huong, the principal of Hoa Binh College of Education, emphasized the significance of inclusive and high-quality educational practices in shaping the future generation of teachers while also promoting local cultures and identities. Huong stated, "The playground, a key outcome of the ACES project, is an inclusive, rich and exciting space to learn. It is associated with the teaching of 'local education,' which is very useful for children to understand and preserve the cultures of Muong and many other ethnic groups in Hoa Binh Province."
Prof. Raymond Lee, co-chair of the UK-VN HEP network, underlined the project's importance for the community, particularly for disadvantaged groups. He expressed his desire to collaborate with Vietnamese universities on future community projects, with a specific focus on creative startups, English teaching, and teacher training integrated with sustainable development goals.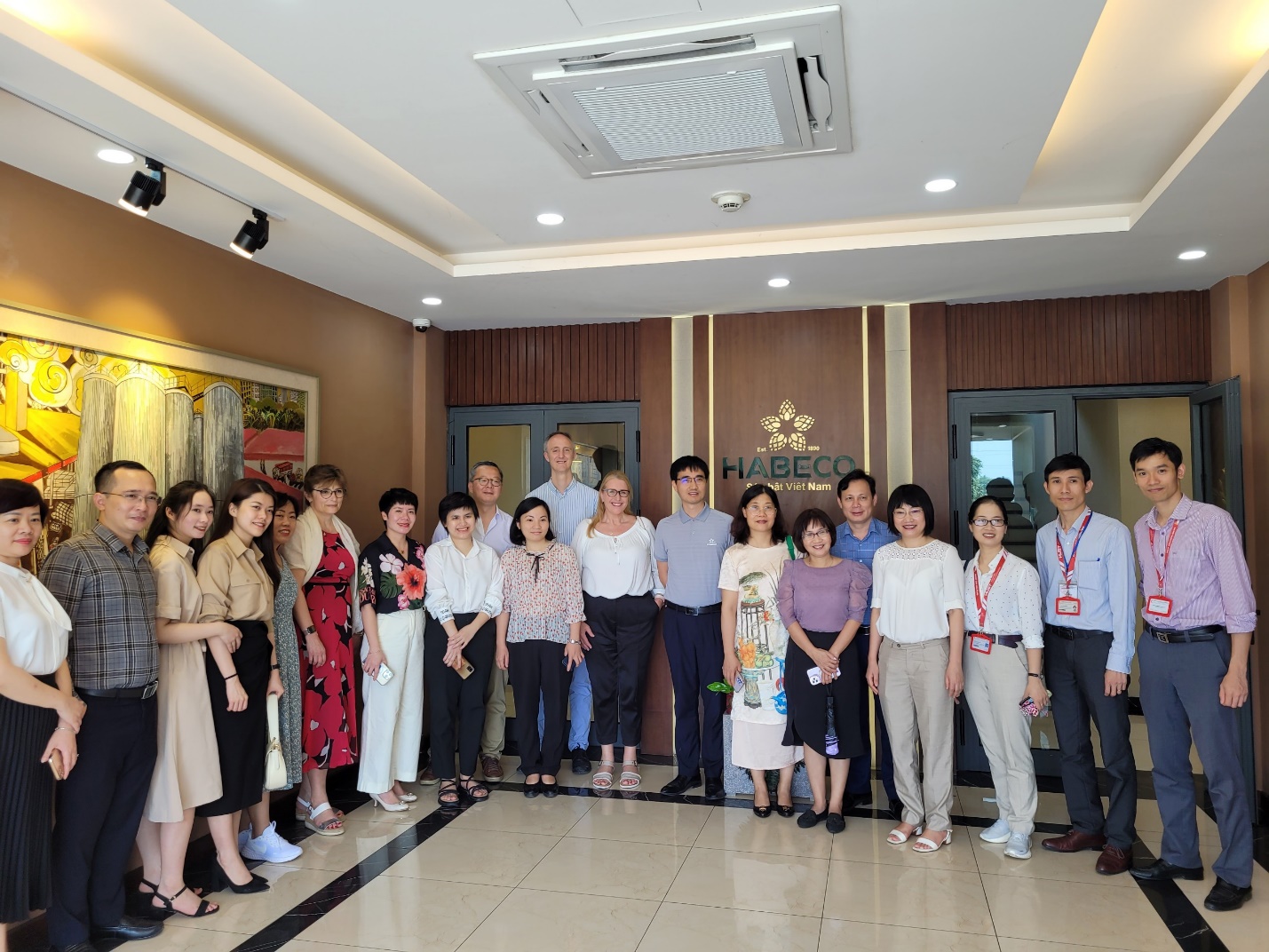 During their visit, the delegates also had the opportunity to explore a successful university-industry cooperation model at Hanoi Beer Alcohol and Beverage Joint Stock Corporation (HABECO). HABECO has long been a strategic partner of Hanoi University of Science and Technology, engaging in various research and consulting projects in biotechnology and food technology. Additionally, HUST has played a crucial role in training highly skilled engineers, workers, and leaders for the company.
The visit is part of the The UK-Vietnam Higher Education Network meeting program, organized by Hanoi University of Science and Technology and University of Portsmouth with the support from British Council. The event provided an opportunity for UK and Vietnamese universities to further strengthen their cooperation in higher education, with a particular focus on innovation, digital transformation, quality assurance, research collaboration, international cooperation, and academic exchange.