https://www.hust.edu.vn/en/news/news/hust-joined-the-digital-move-project-s-kickoff-meeting-in-mongolia-653877.html
From 22 – 26 May 2023, HUST delegation including Dr. Phung Lan Huong - Director of the External Affairs Office and Dr. Tran Hoang Hai, Deputy Director of Network and Information Center, participated to the Kick-off Meeting of the Erasmus+KA2 DIGITAL MOVE project in CITI University, Mongolia.
The "Erasmus+ Bridging Digital Divide in Mongolia and Vietnam through HEI's Digital Transformation (DIGITAL MOVE)" started in February 2023 for the period of 36 months. The project aims to support HEIs in Mongolia and Vietnam to implement and integrate comprehensive digital transformation in all levels of their respective ecosystems. The project is funded by the Education, Audiovisual and Culture Executive Agency (EACEA) through the Erasmus+KA2 program, with the participation of 13 partners, including 07 Vietnamese, 04 Mongolian, 02 French and Slovak universities, in which, CITI University (Mongolia) is the Project Coordinator.
The 8 work packages of the project includes:
WP1
. Project Management and Quality Assurance
WP2
. Establishing a Digital Culture and Infrastructure at HEIs
WP3
. Enhancing the Mission of HEIs through Digital Transformation
WP4
. Enhancing Digital Soft Skills for Faculty, Students, and Lifelong Learners
WP5
. Networking and Connectivity
WP6.
Dissemination and Exploitation of Results
The kickoff meeting at CITI University served as an important platform for participating HEIs to discuss the project's objectives, strategies, and expected outcomes. "The decision of HUST to join DIGITAL MOVE project underlines its commitment to promoting digital literacy and driving technological innovation in Vietnam. As one of the country's premier universities in science and technology, HUST has long recognized the importance of equipping students with cutting-edge skills and knowledge. By participating in this collaborative project, HUST aims to further enhance its curriculum, teaching methodologies, and research efforts to address the emerging needs of the digital economy with other Vietnamese HEIs. The DIGITAL MOVE project will enable HUST to collaborate with other Vietnamese HEIs, sharing expertise and resources to develop a digital transformation master plan, and digital soft skills" – shared by Dr. Tran Hoang Hai.
In this event, HUST and CITI University signed a cooperation agreement to coordinate and implement the project activities. HUST's representatives also had a brief presentation on HUST and HUST digital transformation strategy and activity plan.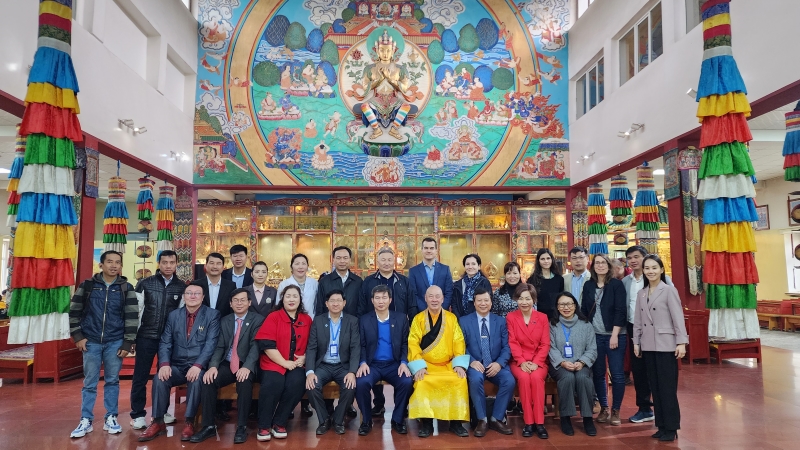 The DIGITAL MOVE project is joined by 13 member universities from France, Slovakia, Mongolia and Vietnam, consisting of:
- 02 universities in Europe: Université Côte d'Azur - Université Côte d'Azur (France) and Technical University of Kosice - Technical University of Kosice (Slovakia).
- 04 institutes and universities of Mongolia: CIT-CITI University, Mongolian University of Life Sciences, Otoch Manramba University Otoch Manramba University and Erdenet Institute of Technology- Erdenet Institute of Technology.
- 07 Vietnamese universities: Hanoi University of Science and Technology, Quy Nhon University, Danang University, Nha Trang University, Can Tho University, Tay Nguyen University and Ho Chi Minh City University of Economics.
EAO - HUST