https://www.hust.edu.vn/en/news/news/orientation-week-for-hust-international-exchange-students-spring-semester-2023-653868.html
Being one of the most attractive universities in Vietnam for excellent students majoring in science, technology, and engineering, HUST annually welcomes numerous international students from many partners worldwide.

Continuing the success of previous exchange programs, this Spring 2023, HUST gladly welcomed nearly 20 international exchange students from many partners across Europe (TU Dresden, Hamburg University of Applied Sciences, INSA Toulouse…) and Asia (Niigata University). They will spend one semester studying in HUST English-taught study programs or doing their internship at HUST's laboratories

Last March, an welcome & orientation day, followed by many cultural activities was organized to help our international students have the best preparation before the new semester comes. "We promise to bring you an ideal campus and a professional working environment – which are making HUST a trustworthy home with respect, solidarity, and dedication for students, staff, and lecturers to together bring about innovation, breakthroughs, and success", shared by Dr. Phung Lan Huong – Head of External Affairs Office (EAO) in the Welcome Session.
At the welcome session, international students met professors whose courses they are going to enroll in and listen to their advice while studying here. The professors showed their great happiness to welcome international students and also wished them to have a wonderful time living in Vietnam and a successful exchange semester at HUST.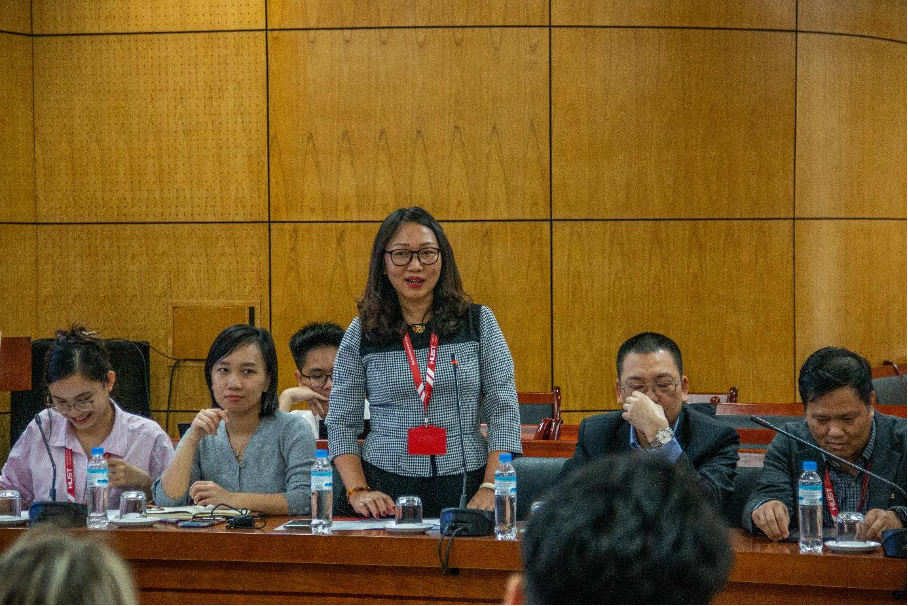 Dr. Phung Lan Huong, Head of External Affairs Office, HUST speaks at the meeting with international exchange students on March 14. Photo by: I-buddy team
Also within the day, an orientation session led by the I-Buddy team and the EAO gathered much attention from the international exchange students. They were introduced to Vietnam with useful information provided for better life adaptation in a new country. On top of that, overall information about HUST and some regulations for HUST international exchange students are brought out carefully.
The I-Buddy group introduced international exchange students to Vietnam at the meeting on March 14. Photo by: I-Buddy team
Exchange students take part in ice-breaking games in the orientation session on March 14. Photo by: I-buddy team
Starting the series of cultural activities within the framework of the Orientation Week, exchange students had an extremely interesting cooking class at Hoa Sua Vocational School in which they learned how to make Spring rolls and Rolling Vegetarian Pho – two of the traditional food in Vietnam. HUST exchange students had the opportunity to learn how to make Vietnamese traditional cuisine and express their excitement while enjoying the dishes made by themselves.
Our students enjoy making the Rolling Pho in the cooking class at Hoa Sua school on March 15. Photo by: I-Buddy team
Besides, a Vietnamese language course was organized to help international exchange students study some basic expressions of Vietnamese. The students were taught how to greet and introduce themselves in Vietnamese, followed by many fun activities in the class with Vietnamese teachers and I-buddy team members as a way to gradually absorb Vietnamese culture.
An exchange student practices introducing himself in Vietnamese. Photo by: I-Buddy team.
HUST exchange students and teachers in the Vietnamese class. Photo by: I-Buddy team.

The trip to Cuc Phuong National Park and Van Long Lagoon really impressed our exchange students for a better understanding of the status of rare animals in Vietnam. The two main famous and important spots visited in Cuc Phuong National Park were the Endangered Primate Rescue Center and Turtle Conservation Center. Students also had sightseeing and exploration into the forest, visited the thousand-year-old tree (Cho Chi tree) and explored the diverse world of rare animals and birds. In addition, international students had the opportunity to enjoy a boat travel around Van Long Nature Reserve's ecological area.
Exchange students and I-Buddy team members in Cuc Phuong forest. Photo by: I-Buddy team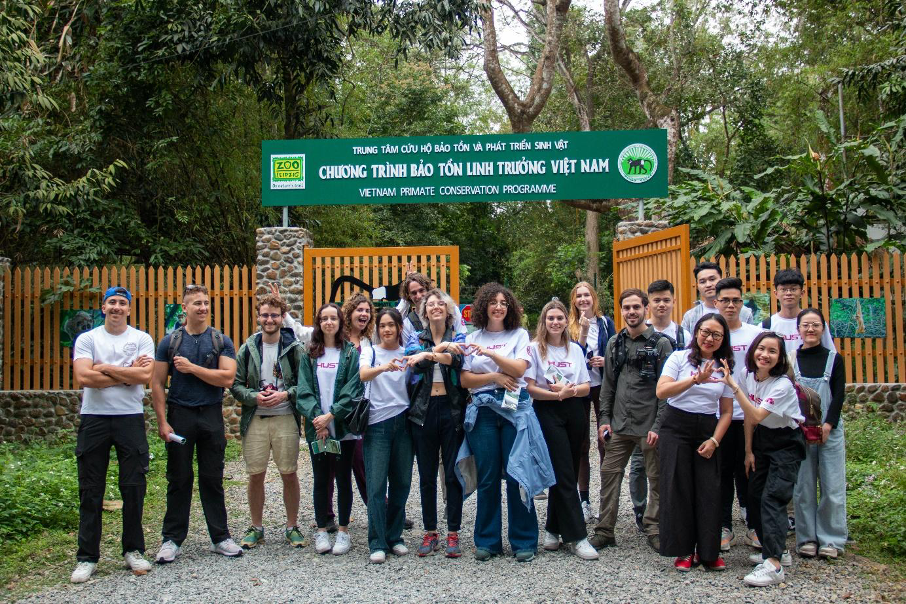 Check-in the Cuc Phuong National Park. Photo by: I-Buddy team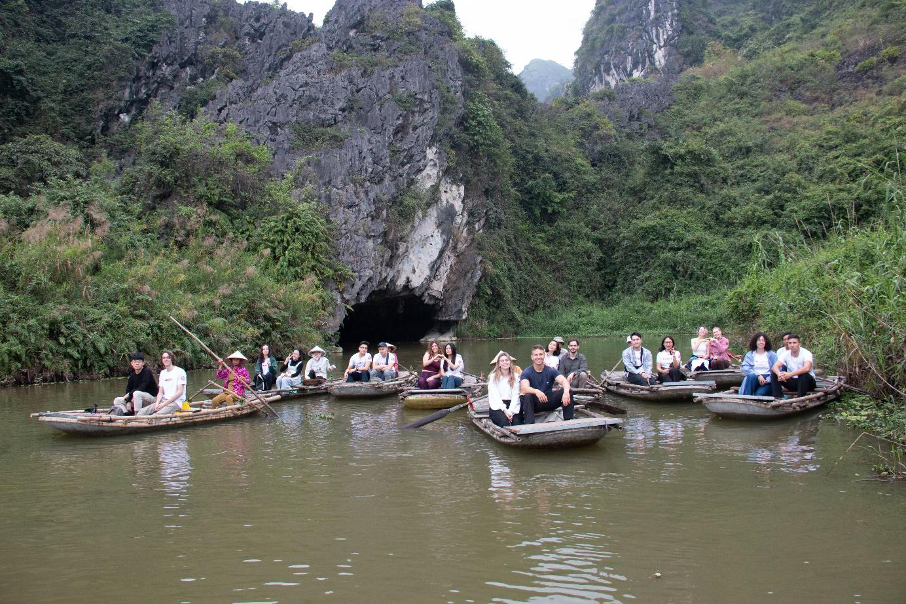 Check-in Van Long Nature Reserve ecological area on boats. Photo by: I-Buddy team
After the orientation week, we believe that our international exchange students are now well-prepared and ready for a new semester at HUST. We also hope that they will have a wonderful time and unforgettable experiences for the next few months living in Vietnam as well as acquire certain achievements during the exchange semester.
EAO - HUST