https://www.hust.edu.vn/en/news/news/the-2nd-conference-on-advanced-separation-science-and-engineering-casse-2022-653856.html
The 2nd Conference on Advanced Separation Science and Engineering (CASSE 2022) was successfully held on 13– 16 December 2022 in Hanoi. CASSE 2022 is a great effort of the three organizers including School of Chemical Engineering (SCE) - Hanoi University of Science and Technology (HUST), Vietnam Association of Chemical Engineering and Korean Institute of Chemical Engineers, due to the influence of COVID-19.

The main goal of this conference is making a bridge not only between Vietnamese and Korean academic and industry, but also anyone who are doing research and working in the fields related to separation processes. Through sharing research results, displaying ideas, discussion on solutions, participants will be better understanding and updating to new and advanced separation technologies, leading to effective application in their works.

This conference has the presence of nearly 50 scientists and students from the universities in South Korea. There are many scientists from the University of Natural Sciences (Vietnam National University, Hanoi), Ho Chi Minh City University of Science and Technology (National University of Ho Chi Minh City), Phenikaa University... also participated as a role of organizer or contributed contents presented in the conference.

Separation is very important technology for any chemical engineering processes to obtain the products with high purity and high productivity. The conference focus on the research and development of new types of nanomaterials, adsorption material, advanced separation methods and technologies, extraction using sub-critical, supercritical, ionic liquids, etc.

The important plenary lecture with the title "Role of Sub- and Supercritical Fluids for Biomass Extraction and Conversion" was presented by Prof. Kim Jaehoon from Sungkyunkwan University. There are 05 keynote lectures, 18 oral presentation and 38 posters were presented in this conference within two sessions as follows:

Session 1: Phase Equilibrium & Transport Phenomena, Distillation, Absorption, Extraction, Supercritical Fluid Technology, and Ion Exchange.
Session 2: Crystallization, Adsorption, Membrane, New Separation Process & Materials for Energy & Environment.

The biggest difference of this conference in comparison with the previous one is the transfer of generations of the organizers. Most of the organizing committee members of the parties are young scientists and the main members of the Vietnamese organizing committee are lecturers at the SCE who have studied and obtained PhD degrees in South Korea.

Over the years, the SCE has cooperated with universities on the world to exchange students and lecturers, develop training joined programs, create research network and organize international conferences on fields related to chemistry, chemical engineering. In 2023, the SCE also plans to organize specialized workshops related to current topical scientific issues such as sustainable development, climate change, green energy and renewable energy...

Assoc. Prof. Nguyen Phong Dien – Vice President of HUST delivered the opening remark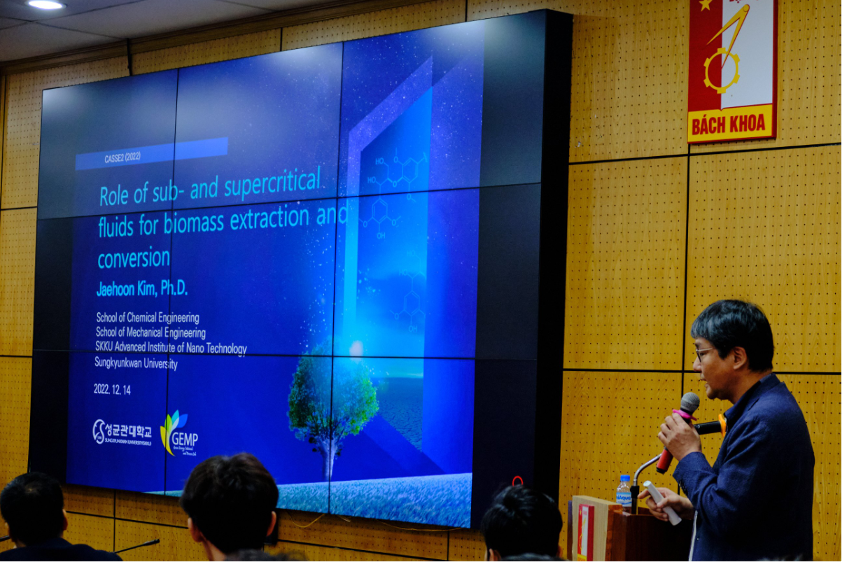 Prof. Kim Jaehoon - Sungkyunkwan University presented the plenary lecture with the title "Role of Sub- and Supercritical Fluids for Biomass Extraction and Conversion"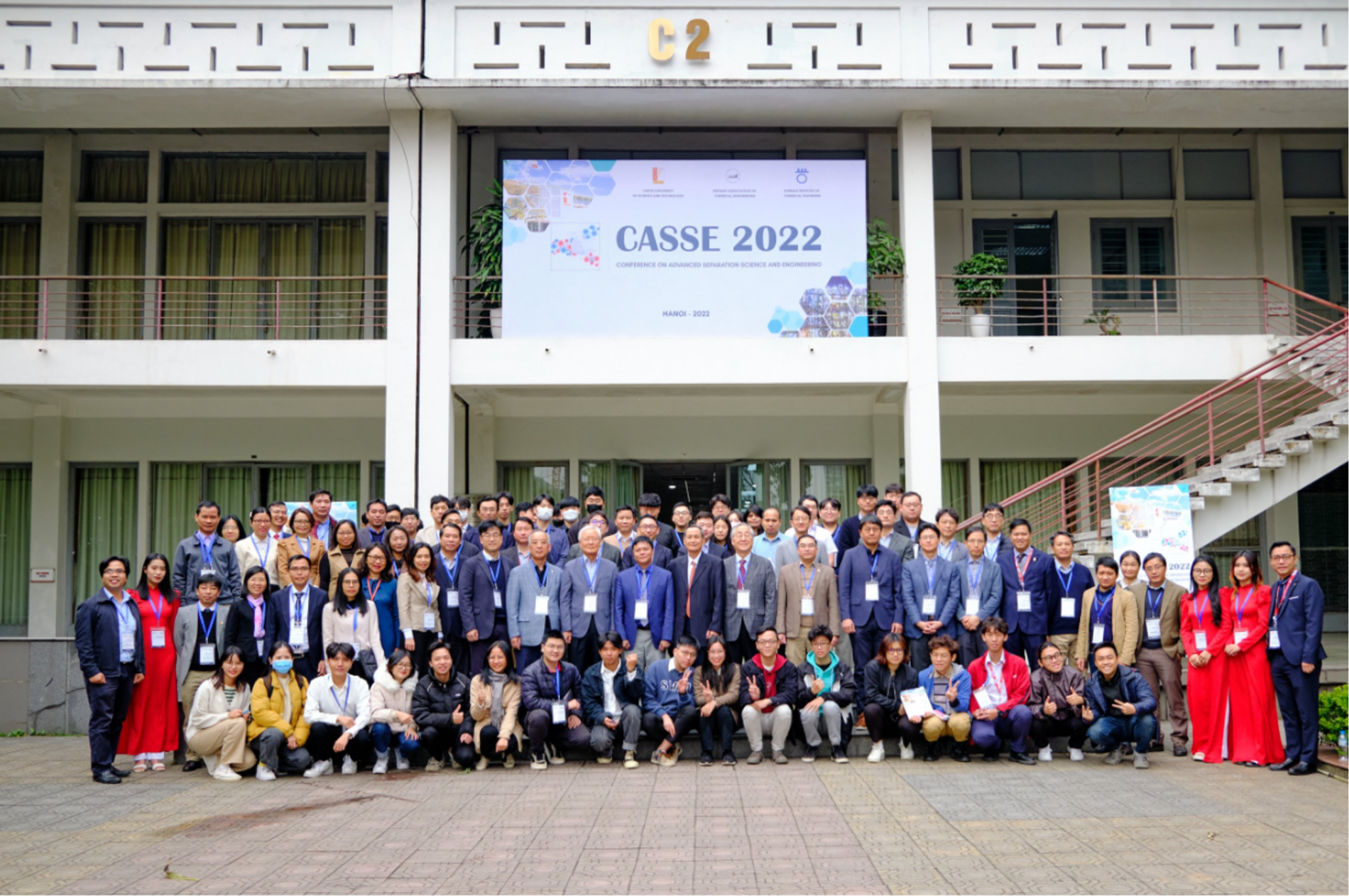 Group photo of the CASSE 2022 conference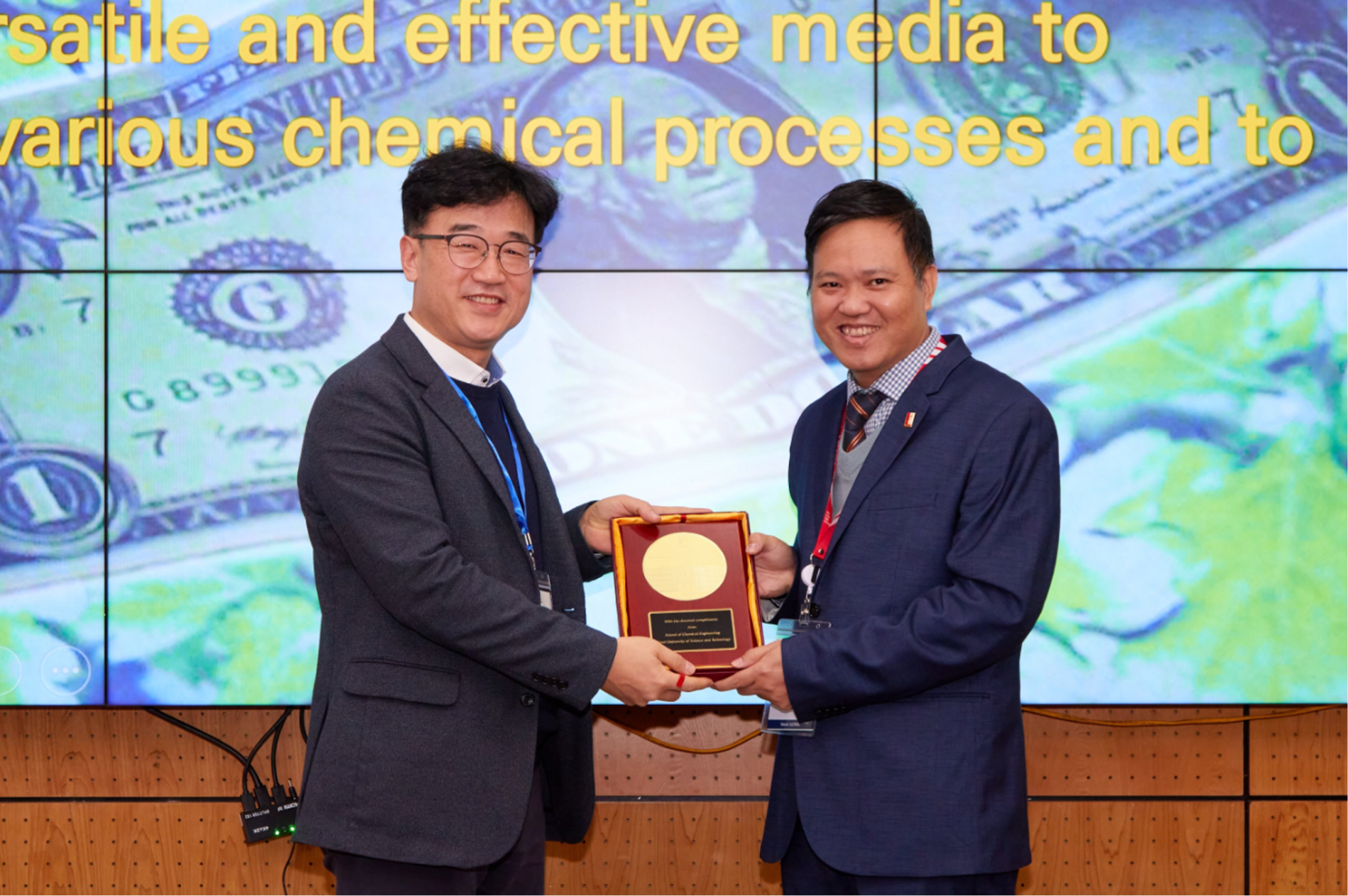 Assoc. Prof. Vu Dinh Tien – Vice Dean of School of Chemical Engineering gave the souvenir to Prof. Kwang Bok Yi – Chairman of Separation Technology Division - Korean Institute of Chemical Engineers
EAO - HUST