https://www.hust.edu.vn/en/news/campus-life/the-signing-ceremony-of-phase-iv-2018-2023-of-aun-seed-net-project-285484.html
On 1 December 2017, AUN/SEED-Net Project has organized the Signing Ceremony for phase IV (2018 – 2023) in Bangkok, Thaikand. Assoc. Prof. Dr. Hoang Minh Son has attented the Ceremony as the representative from Hanoi University of Science and Technology (HUST).
ASEAN University Network/Southeast Asia Engineering Education Development Network (AUN/SEED-Net) has been established in 2011 to promote human resource development in engineering for sustainable socio-economic development of the ASEAN region. The network currently consists of 26 member institutions in ASEAN with assistance from 14 Japanese supporting universities. Hanoi University of Science and Technology and Ho Chi Minh City of Technology are two member universities from Vietnam.
The diversified activities and integrated programs of AUN/SEED-Net include scholarship program, collaborative research & mobility programs, field-wise seminar/regional conference, ASEAN Engineering Journal, staff exchange and U-I Linkage Promotion. For more than 15 years to be the member institution of AUN/SEED-Net, HUST has received a great number of graduated scholarship awards, nearly 30 research projects with a total funding approximately up to a million USD, hundreds of inbound and outbound staff exchange for research. AUN/SEED-Net also supports HUST in strengthening relationship with industrial partners to promote the University – Industry linkage.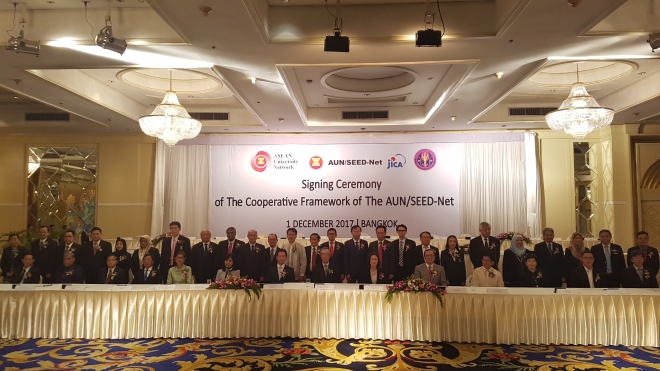 The Signing Ceremony for phase IV AUN/SEED-Net (2018-2023)
Getting the highly appreciations from Japanese and ASEAN governments, AUN/SEED-Net has been officially approved to continue its programs in phase IV for a period of 5 years, from March 2018 until 2023. On 1 December 2017, the Signing Ceremony for phase IV has been organized in Bangkok, Thailand with the participation from Japanese Government, related ASEAN Governments, JICA and high ranking leaders from AUN/SEED-Net member institutions.
On behalf of HUST, President Hoang Minh Son has attended the Signing Ceremony and signed on the Cooperative Framework of AUN/SEED-Net Project for phase IV.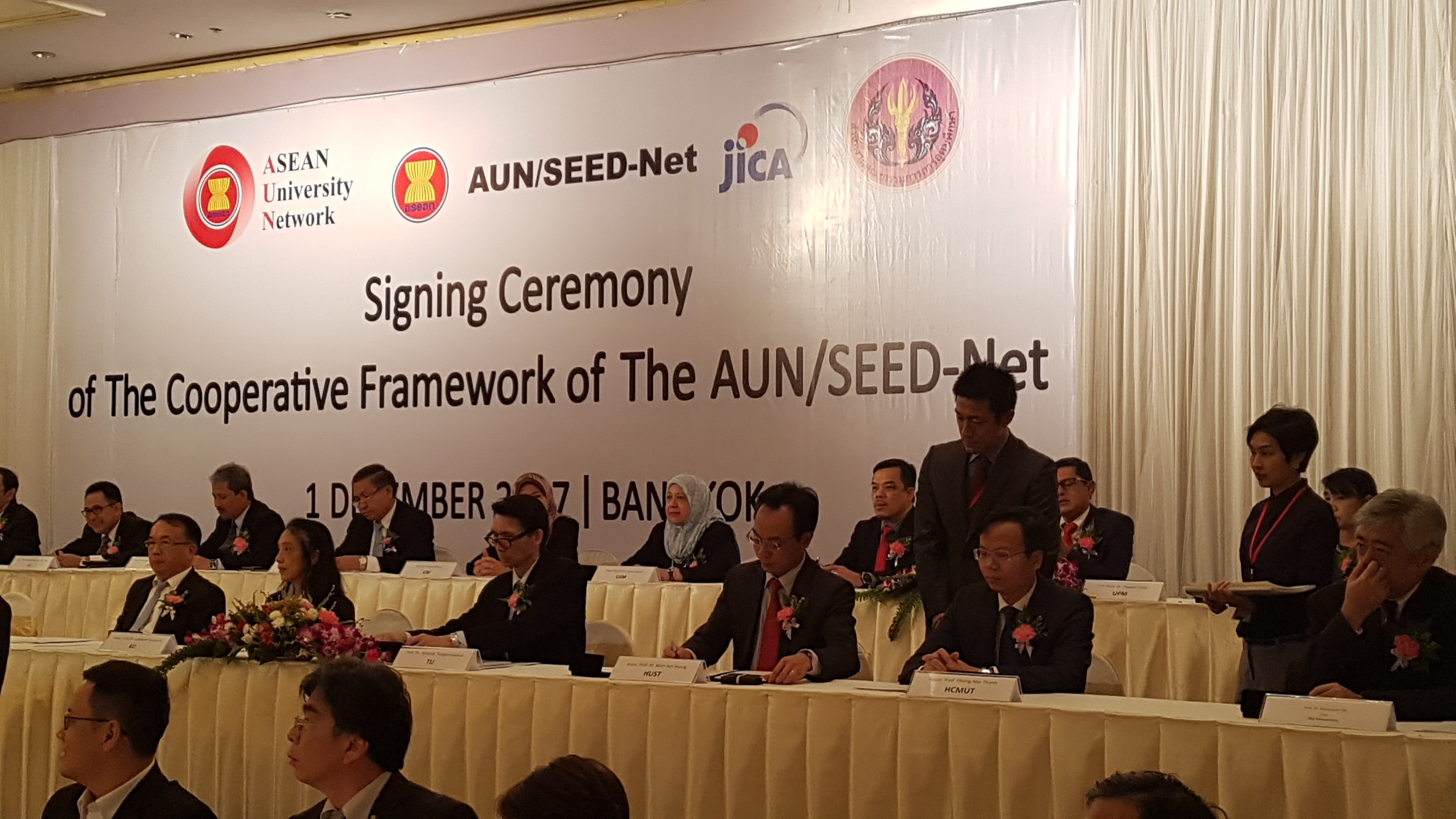 President Hoang Minh Son attended the Signing Ceremony
for phase IV AUN/SEED-Net (2018-2023)
HUST highly appreciates AUN/SEED-Net Project as one among the most efficient programs which strongly supports for the development of the University during a long period of cooperative time. HUST management board commits to actively involve in all programs of the Project in the new phase and make the best of all the supports and cooperation resources provided by AUN/SEED-Net for the development of education and research capabilities of the University.
Information of AUN/SEED-Net Project is available at the webpage: http://www.seed-net.org/
ICD