https://www.hust.edu.vn/en/news/campus-life/samsung-display-vietnam-and-hanoi-university-of-science-and-technology-having-strategic-cooperation-in-training-and-research-349373.html
On June 21, 2018, Samsung Display Vietnam (SDV) had signed the long-term cooperation agreement with Hanoi University of Science and Technology (HUST) in order to promote research and technology transfer, postgraduate and professional training, and career orientation for achieving high qualified human resource.

The main scopes of this MOU are to develop and implement a joint-program in various activities: training highly skilled human resource matching up to SDV's requirement; providing recruitment and internship opportunities; and conducting technology research and development projects, etc. Particularly, both Parties shall incorporate in carrying out short-term specialized courses, offerring master and doctor courses for SDV's staff and engineers, as well as other training and research programs upon the requests of both partners. SDV will commit to cooperate with HUST in researching and developing advanced technology.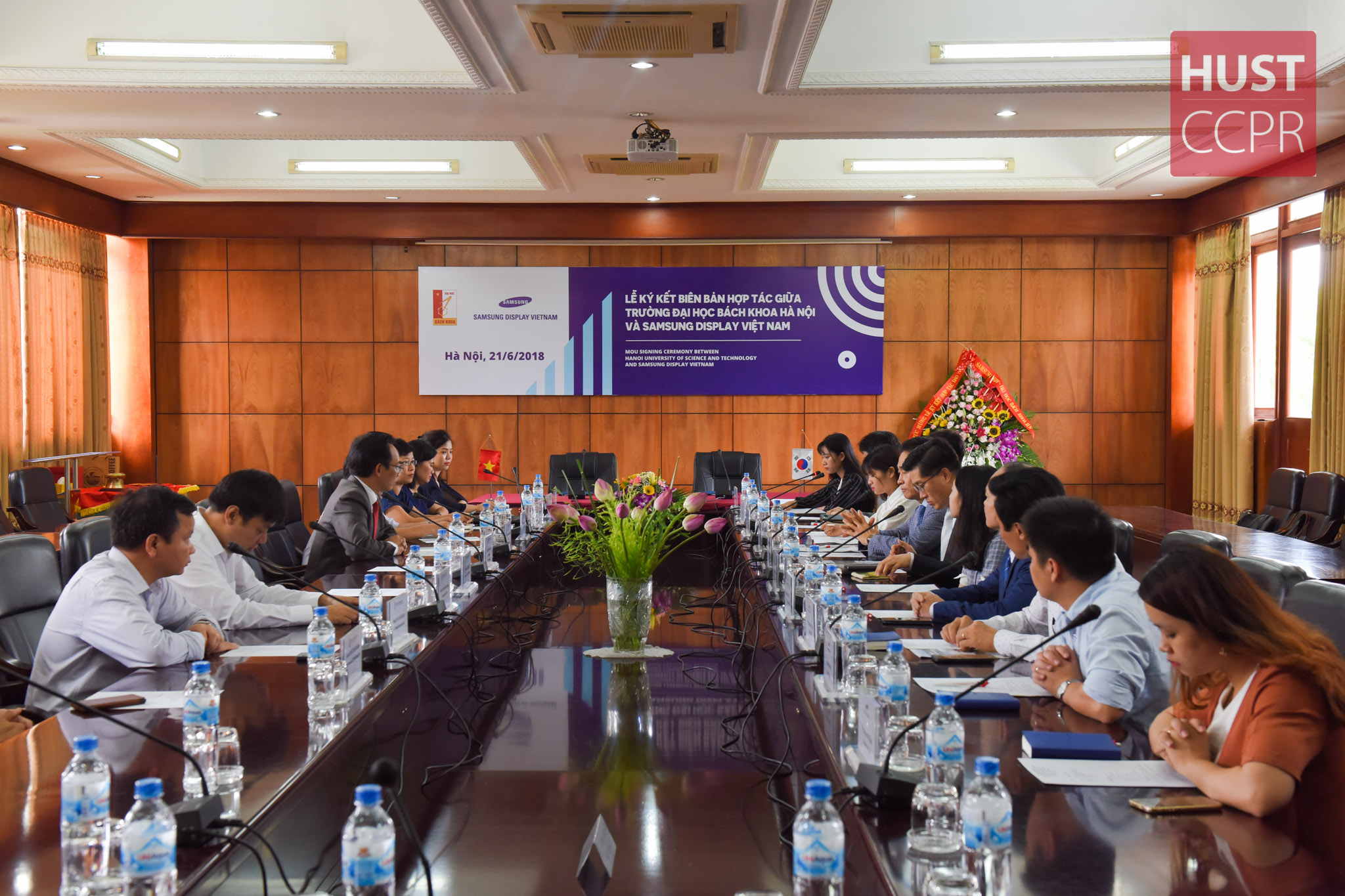 "Promoting international collaboration with universities and companies from Korea is in the focus of HUST's development strategy. Early 2018, HUST had renewed the agreement with Samsung Electronics Vietnam, enacted extensive and effective cooperation programs. This agreement between HUST and SDV has especially opened up a new page of incorporation, enhanced long-term relationship over mutual education and research, along with technology development, and will bring out benefits for both Parties" – said Assoc. Prof. Hoang Minh Son, President of HUST.
SDV, under Samsung Corporation, is a world-leading company in the screen technology. The Company focuses on researching and manufacturing OLED, LCD screens with the latest technology for mobile phones, TV, and computers, etc. Established in July 2014, SDV has reached the number of 45,000 employees by this year. With its continuous growth, the Company looks forward to having more talents to provide the best products and services.

Mr. Kweon Young Chan, General Director of SDV, emphasized: "The foundation for the company's success and development begins with the highly qualified workforce. Thus, to achieve our strategic vision, we will focus on talent-training in electronical engineering, telecommunications engineering, and information technology. We believe that the cooperation with HUST, the top engineering and technology university of Vietnam, will help us to have more excellent experts, and open up more chances for mutual research projects that contribute to the development of the Company".


The agreement between HUST and SDV shall be in implementation within 5 years since the date of signing.
CCPR