https://www.hust.edu.vn/en/news/campus-life/priority-to-strengthen-the-knowledge-and-technology-transfer-in-vietnam-vetec-project-219916.html
"How to apply the knowledge and technology transfer into Vietnamese universities adapting to the market's need and to orientate the scientists and professors the updated technologies in the world to catch up with essential research trend are more crucial than ever in Vietnam" Assoc. Prof. Huynh Quyet Thang, HUST Vice President said in VETEC Kick-off Meeting and Network Meeting organized on May 24th 2017 at HUST.
Develop the education consortium in enhancing the Knowledge and Technology Transfer capacities in Vietnam
Vietnamese - European Knowledge and Technology Transfer Education Consortium (VETEC) is an EU – funded project in Erasmus + Key Action 2 framework for the period of 03 years. It is aimed at unlocking the Vietnamese knowledge and technology transfer (KTT) potential by creating leadership and strengthening management and educational capacities in the field of KTT in Vietnamese HEIs. With the co-funding from EU, the project will get the support of 712,014 Euros (about 17.5 billion Vietnam dong). VETEC expects to improve international KTT capacities of the participating Vietnamese and European HEIs in the project and to strengthen its cooperation approaches on KTT in EU and Vietnam as well.
The VETEC has 03 partners from different European regions: Vrije Universiteit Brussel (VUB) - North West – Belgium, TU Dresden (TUD) Central Germany and Aveiro University (AU) - South West - Portugal. Interestingly, it also has a good geographical partners spreading in Vietnam: North (Hanoi University of Science and Technology), Central (Hue University) and South (Can Tho University).
On May 24th 2017, VETEC project was officially launched at Hanoi University of Science and Technology campus by the VETEC Kick-off Meeting with the participants of all project partners, associate partners and witness of Mr. Antonio Recca, Head of Finance and Contract, EU Delegation in Vietnam.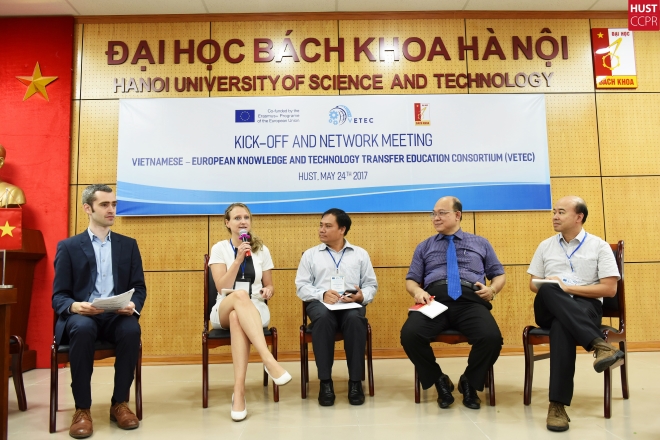 Assoc. Prof. Huynh Quyet Thang, Vice President of Hanoi University of Science and Technology said "Knowledge and Technology transfer is not only a hot topic in universities but also concerns which attracted much attention from policy makers, enterprises and other stakeholders. HUST appreciated the success of VETEC project proposal submission to EACEA and great contribution in developing the work packages from partner universities and especially from VUB – VETEC coordinator in Belgium. By this chance, he also would like to thank for the support from EU in Erasmus + to provide more chances for exchange and sharing our mutual experiences to build more capacities for universities".
Prof. Thomas Cripseels, Coordinator of TACTIC project, said "based on the VETEC activity framework, partners have implemented the KTT need analysis in Vietnamese university partners. All expect to develop the suitable training programs for different levels of KTT leadership to be aligned with the realistic needs of each partner. We trust that our Vietnamese universities with innovation and research potential will try their best to come for the success of VETEC."
Update and share the KTT trends to enhance KTT capacities in Vietnam,
In the series of 3 networking events of project, the first VETEC Network Meeting "How to enhance the Knowledge and Technology Transfer in Vietnam" was organized to develop the first consortium in Vietnam with European partners on same day with Kick-off Meeting of May 24th 2017 at HUST.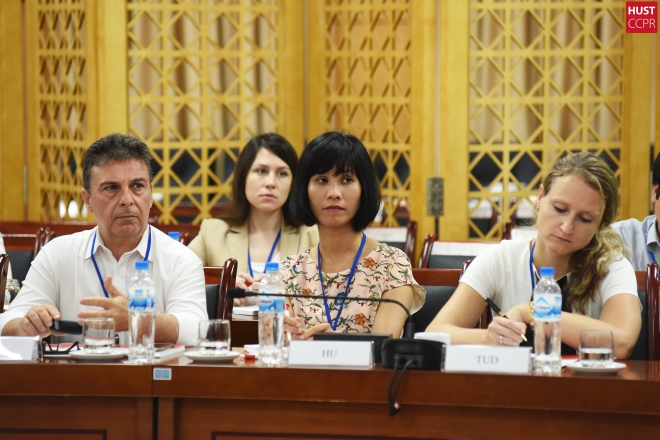 With the participation of more than 50 scientists, professors, policy makers and industries, Mr. Geert Bansintjan, Counselor, Head of Cooperation, Belgium Embassy in Vietnam delivered his opening remark that "Capacity building for innovation in a mindset change that defines the future." And "universities are in the first place the instruments for imbibing the country, the society, the young people with one of the most important good practices, shared the knowledge and tools to use this knowledge in day to day life." Furthermore, "this VETEC project with support of all partners and stakeholders can be a stepping stone for a change in society".
The Network meeting shared the KTT models from European partners and need analysis results in Vietnamese universities on Knowledge and Technology transfer. The participants also discussed on how to enhance the capacities of KTT in Vietnam. The round-table on the KTT experience topic was actively discussed and shared by 05 European - Vietnamese partners, and guest speakers with participants.
The networking was ended up by the tours from Center in School of Biotechnology and Food Technology, HUST to BKHoldings (associate partner in VETEC) to see more current status of the technology transfer in universities and learn more about innovation models in Vietnam.
VETEC project will be implemented from Oct 2015 – Oct 2019. The results of the VETEC will be applied in developing the training and education in Knowledge and Technology transfer in future.