https://www.hust.edu.vn/en/news/campus-life/innovative-digital-projects-for-the-post-covid-world-575697.html
On May 26th 2021, the British Council Vietnam and Vietnam National Foreign Languages Project (NFLP) co-organized the Digital Learning Innovation Pilot Project Launch event – 'embracing digital learning in a post-Covid world'. HUST was proudly funded the project titled "Vietnam Virtual Exchange for English Language Teaching" in collaboration with Coventry University.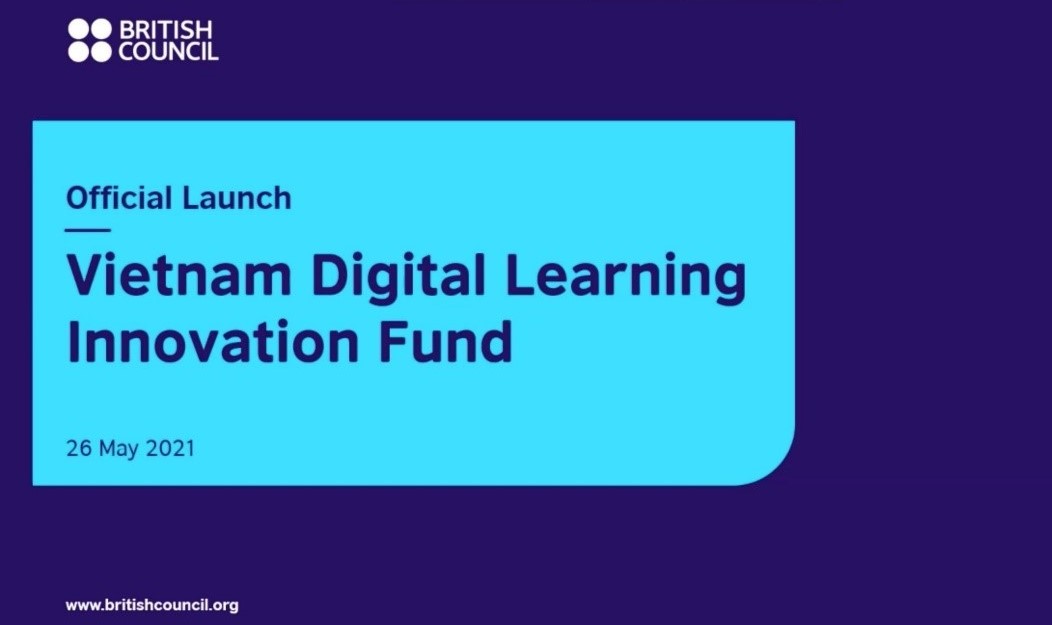 Participating in the launching ceremony were distinguished guests, Dr. Pham Quang Hung – Director General of the International Cooperation Department, Ministry of Education and Training (MOET), and Sir Steve Smith, UK International Education Champion. The launching also welcomed participants who were ELT and EdTech sector specialists, university leaders, researchers and lecturers from UK and Vietnam.
The Digital Learning Innovation Fund aims to encourage partnerships between Vietnam and the UK to increase digital provision of English language teaching and learning. Speaking at the launch, The UK International Education Champion, Sir Steve Smith emphasized the significance of the Fund to combine digital technologies and ELT to bring about sustainable viable frameworks for the future normal times. He also acknowledged the tremendous collaboration of the British Council Vietnam, the NFLP and MOET in creating together this exciting project.
During the launch, three winning projects outlined their ideas of collaboration and innovations, as well as their plans for the next 12 months to develop English teachers' and learners' skills and capability. "Three pilot projects today are all high-quality projects, representing long-term commitment and strategic partnership of the two countries. They have high potential to better benefit Vietnamese teachers and learners, especially in the post-Covid 19 world" – said Dr. Pham Quang Hung, Director General of the MOET International Cooperation Department.
On behalf of Hanoi University of Science and Technology, Dr. Bui Thi Ngoc Thuy – principal investigator of the project "Vietnam Virtual Exchange for English Language Teaching" said, 'We are delighted to have been awarded the pilot funding for our ViVEXELT project and would like to thank the British Council and NFLP for offering us this unique opportunity to create a new and sustainable Viet Nam/UK ELT community of research and practice'.
All three projects will start from April 2021 and continue over the next 9–12 months. The projects will be monitored and evaluated for their impact throughout the next 12 months.
ViVEXELT (Vietnam Virtual Exchange for English Language Teaching) will see over 120 teachers in Viet Nam and the UK participating in online collaborative courses and virtual communities of practice as an innovative model of continuing professional development for English language teachers. The ViVEXELT community of practice will support participants to reflect on ELT. Such reflections will inform the creation of reusable and shareable ELT digital resources, such as CPD videos. which will be made available to all. Coventry University and Hanoi University of Science and Technology (HUST) already have strong credentials in EdTech and have partnered in the UK-VN Higher Education Partnership (HEP) project.
(Source: British Council)
With the restrictions on face-to-face education at all levels due to the pandemic, HUST has actively worked with international partners to bring in initiatives on online learning and teaching. Previously, HUST together with University of Portsmouth (UK) and Shanghai Jiao Tong University (China) has co-developed the project "A Mobile and Open learning and networking platform for Science and Engineering" to support the development of student experience and mobility and promote research and academic collaboration. The project has been funded by the Ministry of Education China and British Council China and will start from April this year.
EAO - HUST