https://www.hust.edu.vn/en/news/campus-life/hust-wins-the-awards-asia-s-student-recruitment-campaign-of-the-year-category-620803.html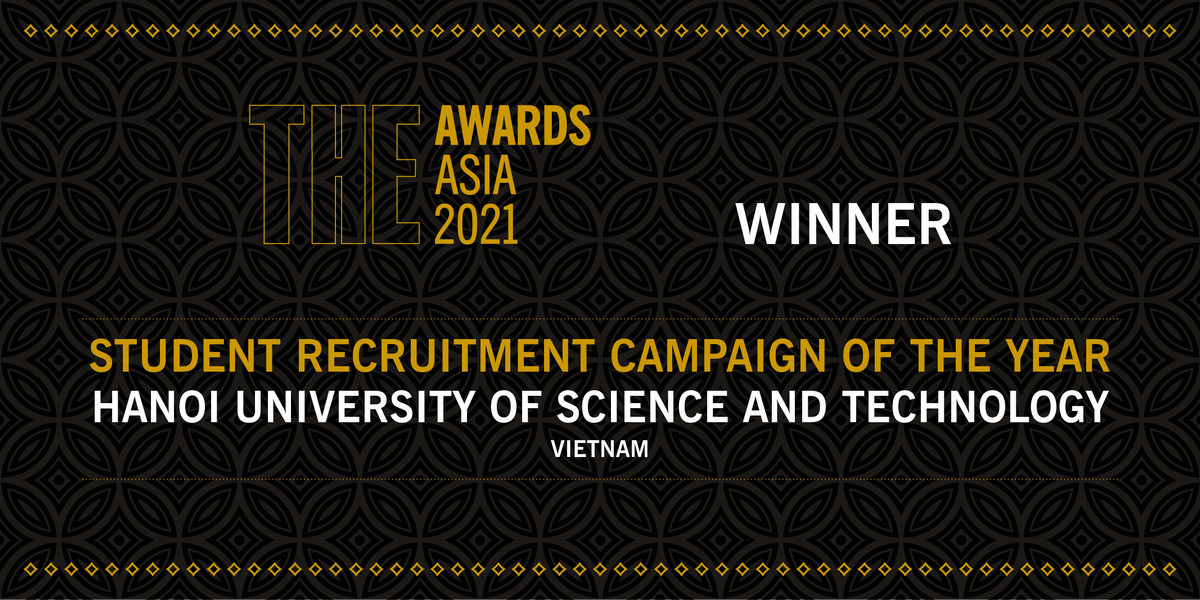 Hanoi University of Science and Technology (HUST) is the only Vietnamese university to ever win this award.
Transforming student recruitment during a pandemic would be a challenge for any institution, but HUST successfully led this process for scores of institutions.
In 2020, HUST – in a first for Vietnam – introduced 2 new admission methods: a new online application portal for early admission and an optional Thinking Skills Assessment (TSA).
This represents a significant shift for Vietnam, where admissions have traditionally been shaped only by scores in national college entrance examinations.
The portal allows students to submit international standardized test results, recommendation letters, and details of other achievements, with submissions, followed up by interviews – either online or in person. This admission method will be organized before the national exam and aims at attracting gifted students.
On the other hand, HUST's TSA is organized after the national college entrance exam, thus giving the candidates another opportunity to enter their favorite university.
HUST's TSA includes the main part in Mathematics and Comprehensive reading, and an optional part to choose between Natural Sciences and Language, depending on the candidates' intended majors.
The TSA allowed students to demonstrate their literacy and numeracy abilities, and in its first year was used in about 30-35 percent of admissions. Following its successful introduction, in 2022, around 60% of admissions will be chosen through the TSA.
This year, 8 top technical universities in the North of Vietnam will use this aptitude test organized by HUST for their university entrance selection. According to Assoc. Prof. Nguyen Phong Dien, HUST Vice President, "the number of universities using this test will increase in the near future".
"The TSA is more challenging and easier for classification compared to the national college entrance exam", said Assoc. Prof. Nguyen Phong Dien. The combination of these admission methods will ensure effective student selection.
HUST highlights that its approach, allowing "multiple admission methods" both online and offline, "helps increase the chances of students getting into their favorite universities, embracing their distinctive strengths other than performance on textbook-based tests and regardless of the students' locations".
"Due to Covid-19, HUST adopted an online approach to connect applicants to current students and alumni and allow them to gain a good understanding of the university," THE's judges noted.
For nearly 10 years, HUST has chaired the Vietnam Northern Admissions Association, analyzing the admissions scores of students applying for 50 to 60 universities based on each member's course list, entry requirements, and recruitment targets.
The Covid-19 pandemic threw up a frightening new challenge. These awards call attention to institutions working beneath the radar that have been performing near miracles in extremely challenging circumstances.
Widely known as the 'Oscars of higher education, THE Awards were a fixture in the UK higher education calendar for 14 years before, in 2019, this prestigious event came to Asia for the first time.
THE Awards Asia offers a major international platform to recognize outstanding leadership and institutional performance and celebrate the continent's higher education excellence in all of its diversity. And unlike THE World University Rankings, which are based on solid data points, eight of our ten categories are judged by a panel of experts, recognizing great work that the rankings cannot capture.
The full list of this year's winners:
- Student Recruitment Campaign of the Year: Hanoi University of Science and Technology
Highly commended: Shoolini University of Biotechnology and Management Sciences
- Excellence and Innovation in the Arts: Hong Kong Baptist University
- International Strategy of the Year: Hangzhou Dianzi University
Highly commended: Chinese University of Hong Kong
- Teaching and Learning Strategy of the Year: National University of Singapore
Highly commended: Universiti Malaysia Sarawak (UNIMAS), Centre for Applied Learning and Multimedia
- THE DataPoints Improved Performance Award: Universiti Utara Malaysia
- THE DataPoints Social Impact Award: Institut Teknologi Sepuluh Nopember
- Technological Innovation of the Year: O.P. Jindal Global University
- Workplace of the Year: Saint Joseph University of Beirut
- Outstanding Support for Students: Universiti Teknologi Petronas
- Leadership and Management Team of the Year: Kalinga Institute of Industrial Technology (KIIT)