https://www.hust.edu.vn/en/news/campus-life/hust-s-vice-president-shares-experience-in-the-global-hr-forum-2017-293570.html
On the occasion of the 25th anniversary of the establishment of diplomatic relations between the Republic of Korea (RoK) and Vietnam, the Global HR Forum 2017 "Miracle on the Han River to Miracle on the Hong River", co-organized by the Ministry of Education of the RoK, The Ministry of Education and training of Vietnam and the Korean Economics Daily, held in Hanoi on December 14, with an aim to help Vietnam improve the quality of the national workforce.
Participating in the Forum, there are RoK Deputy Prime Minister and Minister of Education Kim Sang-kon, Vietnamese Minister of Education and Training Phung Xuan Nha, RoK Ambassador to Vietnam Lee Hyuk, Mr. Jaime Saavedra, Senior Director of Education Global Practice at the World Bank Group and leaders, representatives from international, Korean and Vietnamese organizations. Associate Professor Huynh Quyet Thang - Vice President of Hanoi University of Science and Technology also participated and delivered a presentation.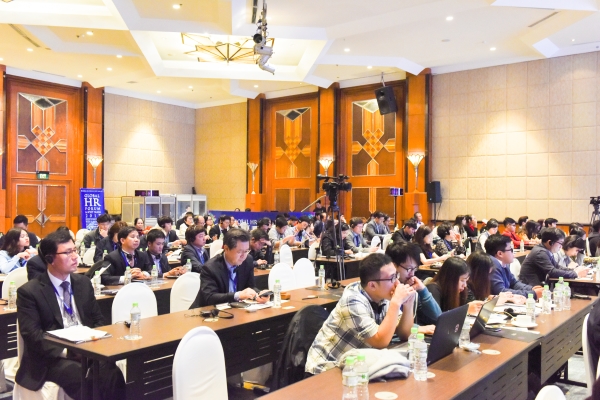 During the event, experiences of the RoK which helped to realize the Miracle on the Han River lead to the rapid growth in the 1990s were shared. Both two sides, Vietnam and RoK had chances to discuss different methods to enhance their strategic partnership across many sectors, particularly in the management and development of high-quality human resources.
In his speech, Minister Phung Xuan Nha believed that Vietnam is learning from developed countries like the RoK, and is perceived that the development of the human resources is a breakthrough point to the economic growth.
He noted that the country is working to improve its workforce though education, training, and international cooperation, with the priority given to the establishment of international-standard educational institutions and training of leading experts. Minister Phung Xuan Nha said he expected the forum will help both sides to define opportunities and challenges in the development of a high-quality workforce, thus suggested suitable measurements for Vietnam to meet new demands on such field.

On behalf of HUST, Vice President Huynh Quyet Thang also shared the experiences of the university and its achievement in collaborating with industry and international institutions, especially with partners in RoK. As addressed in his presentation, HUST has been signed 472 MOUs with international partners of which 78 MoUs were signed with Korean universities and research institutes; being a member of seven international networks and developed ten collaborative training programs with industry. For example, Samsung Talented Training program is one of a successful sample for linkage with Korea businesses. The program started since 2012 and attracting about 120 – 180 students annually.
In addition, since 2012, HUST has been selected as a hub for the Asian Cyber University Project funded by KOICA, aiming at developing e-learning model in Cambodia, Laos, Myanmar, Thailand and Vietnam.
With such outstanding outcomes, Vice President asserted that international and industrial cooperation is considered as a priority in the development strategy of HUST. He also expressed his expectation in strengthening the collaboration with universities, research institutions and businesses from RoK.
ICD - CCPR