https://www.hust.edu.vn/en/news/campus-life/hust-ranked-in-top-351-400-best-universities-in-asia-576241.html
Scores for Teaching and Research indicators have improved since last year.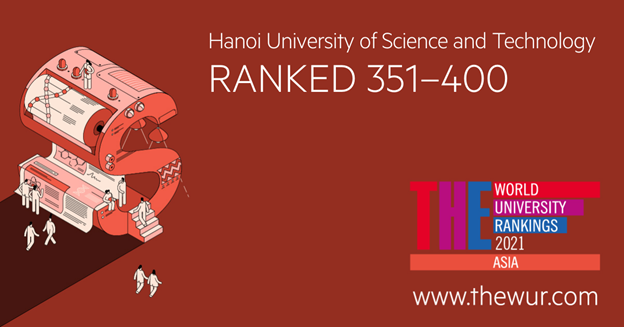 On June 2nd, Times Higher Education (THE) announced the best universities in the region in their 2021 Asia University Rankings. For the second year in a row, HUST has been featured in the ranking table as #2 out of three institutions from Vietnam and #351-400 regionwide.
The Asia University Rankings evaluates institutions in the same 5 pillars as the World Rankings with particular emphasis on Research productivity and income and Industry income, while reducing the weights for international students and faculty ratio. This is to reflect the region's unique characteristics.
HUST has continued to improve education conditions in terms of staff-to-student ratio, doctorate-to-bachelor ratio, doctorate-to-staff ratio, and institutional income to academic staff this year. At the same time, the research volume in Scopus for the 5-year span from 2015-2019 has also increased since the last period.
Out of the 5 pillars, HUST is ranked highest in International Outlook with a steadily increasing number of publications stemming from international collaborations.
THE Asia University Rankings evaluates universities in 5 pillars representing the core missions of a higher education institution: Teaching (25%), Research (30%), Citations (30%), International Outlook (7.5%) and Industry Income (7.5%)