https://www.hust.edu.vn/en/news/campus-life/hust-organizes-lunar-new-year-s-meeting-for-international-students-620319.html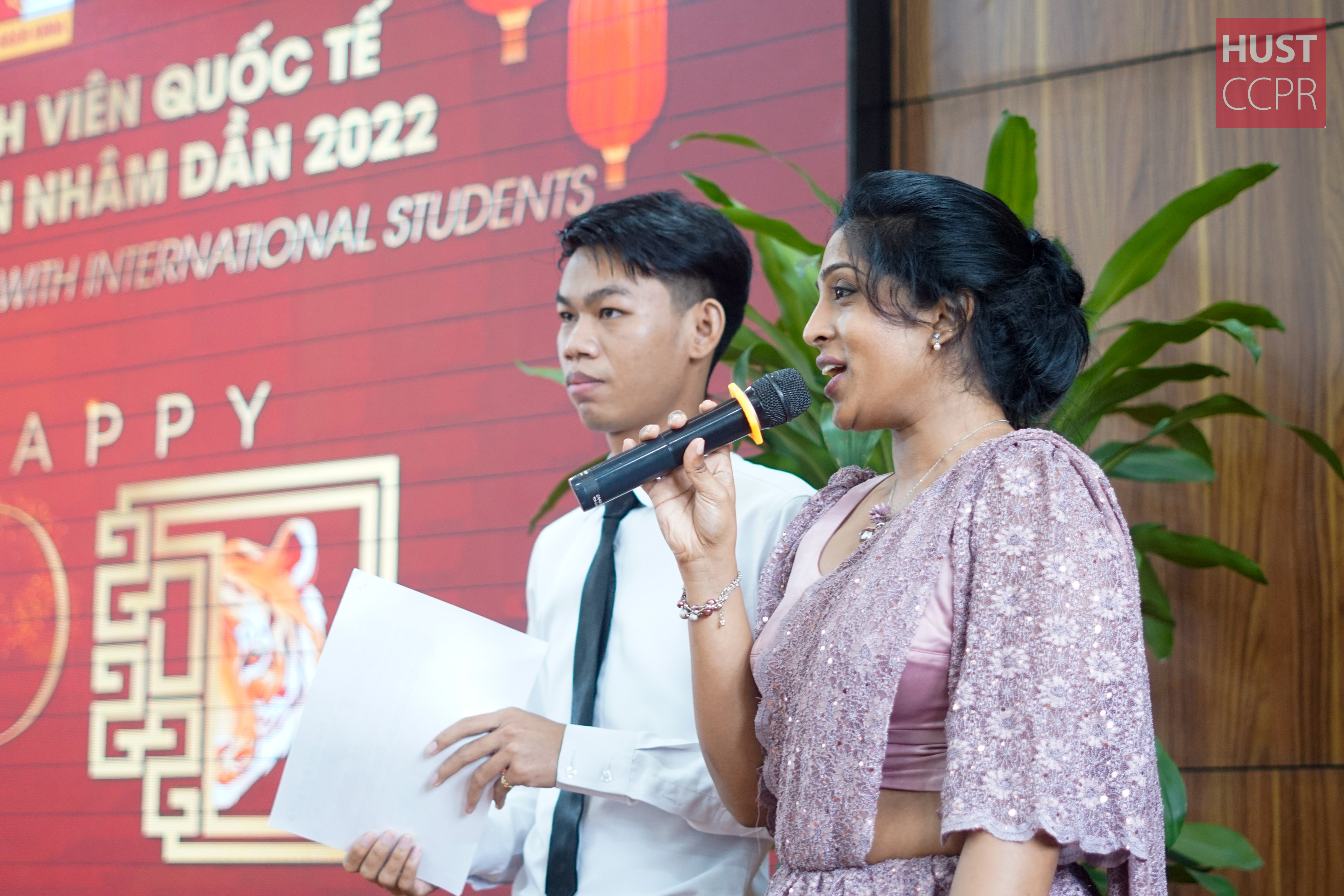 Vun Liem (left) from Cambodia and Withanage Mayomi Chandima Dulanji from Sri Lanka were the hosts for the gathering on January 28, 2022. Photo: CCPR – Ha Kim
HUST international students gathered together at the university's traditional meeting to celebrate the Year of the Tiger (2022) despite the COVID-19.
The lunar new year (Tet) celebration for international students is an annual tradition at HUST. This event was an opportunity for the university board of directors to listen to the students' requests and difficulties.
At the ceremony, Assoc. Prof. Nguyen Phong Dien, HUST Vice President, sent his New Year greetings to all international students. He hoped that the ceremony will give some encouragement to the international student community at HUST, especially in the current difficult pandemic.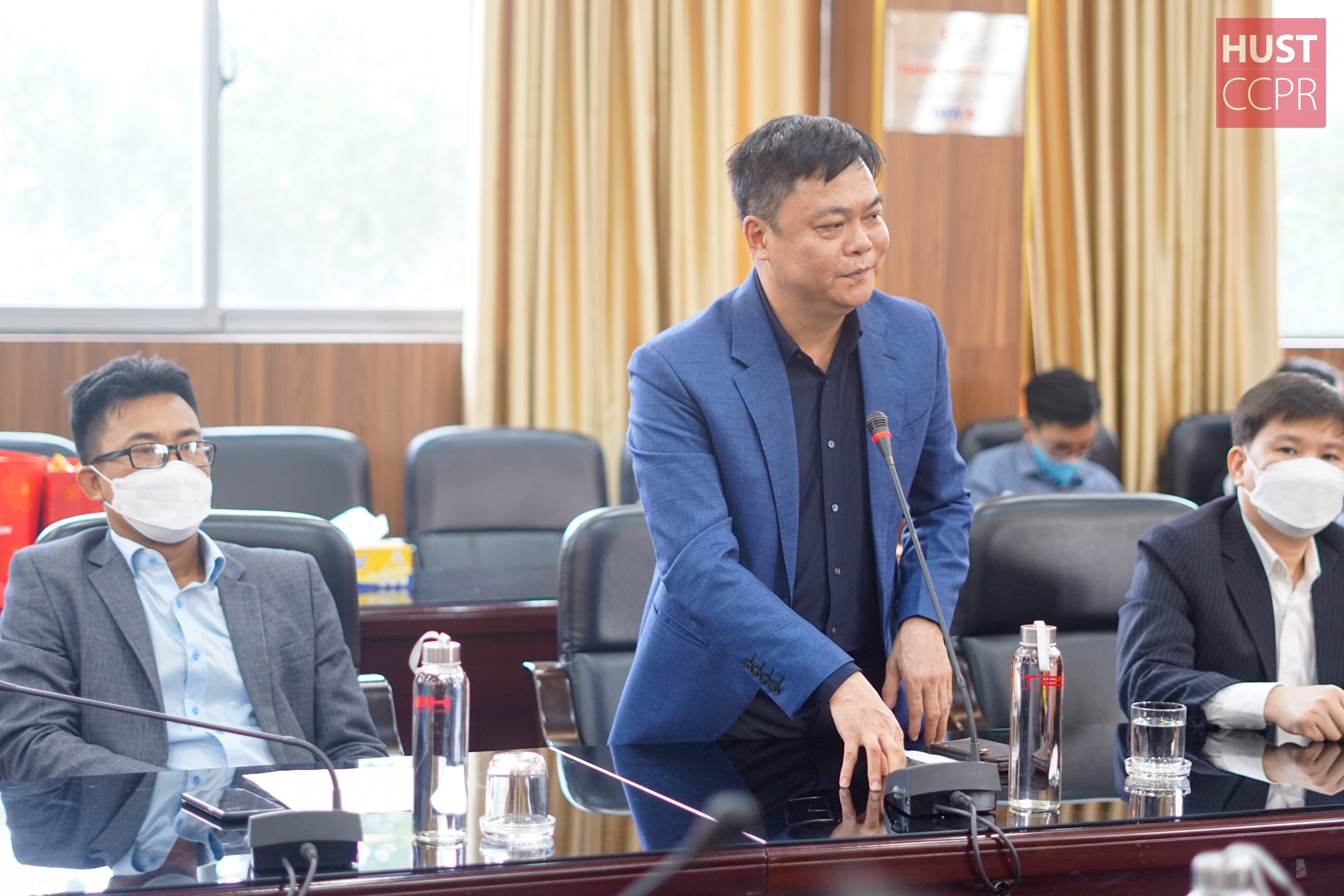 Assoc. Prof. Nguyen Phong Dien, HUST Vice President, at the meeting on January 28, 2022. Photo: CCPR – Ha Kim
2021 was a challenging year because of the pandemic. HUST students had spent a large amount of time studying online.
Some international students met difficulties in coming back to Vietnam after the holiday. HUST staff timely provided support for foreign students in administrative procedures of entry into Vietnam or extending visas.
To ensure the safety of students, the university arranged COVID-19 vaccines for all international students on its campus.
Food and other necessary goods were donated for students living in HUST dorms 3 times during the pandemic peak from July to September last year.
Information about pandemic situations and regulations were constantly updated via the MS Teams channel between Student Affairs Office and international students. This channel is one of the means that foreign students can easily reach HUST staff for further inquiries and other issues impacting the students.
According to Assoc. Prof. Dinh Van Hai, Head of the Student Affairs Office, there were considerable improvements in the study results of international students as a result of a wide variety of support and encouragement.
This year, only representative students of each country were invited due to the COVID-19. The ceremony was organized in Vietnamese and English and hosted by two students from Cambodia and Sri Lanka. This was one of the interesting highlights which differed from previous years' meetings.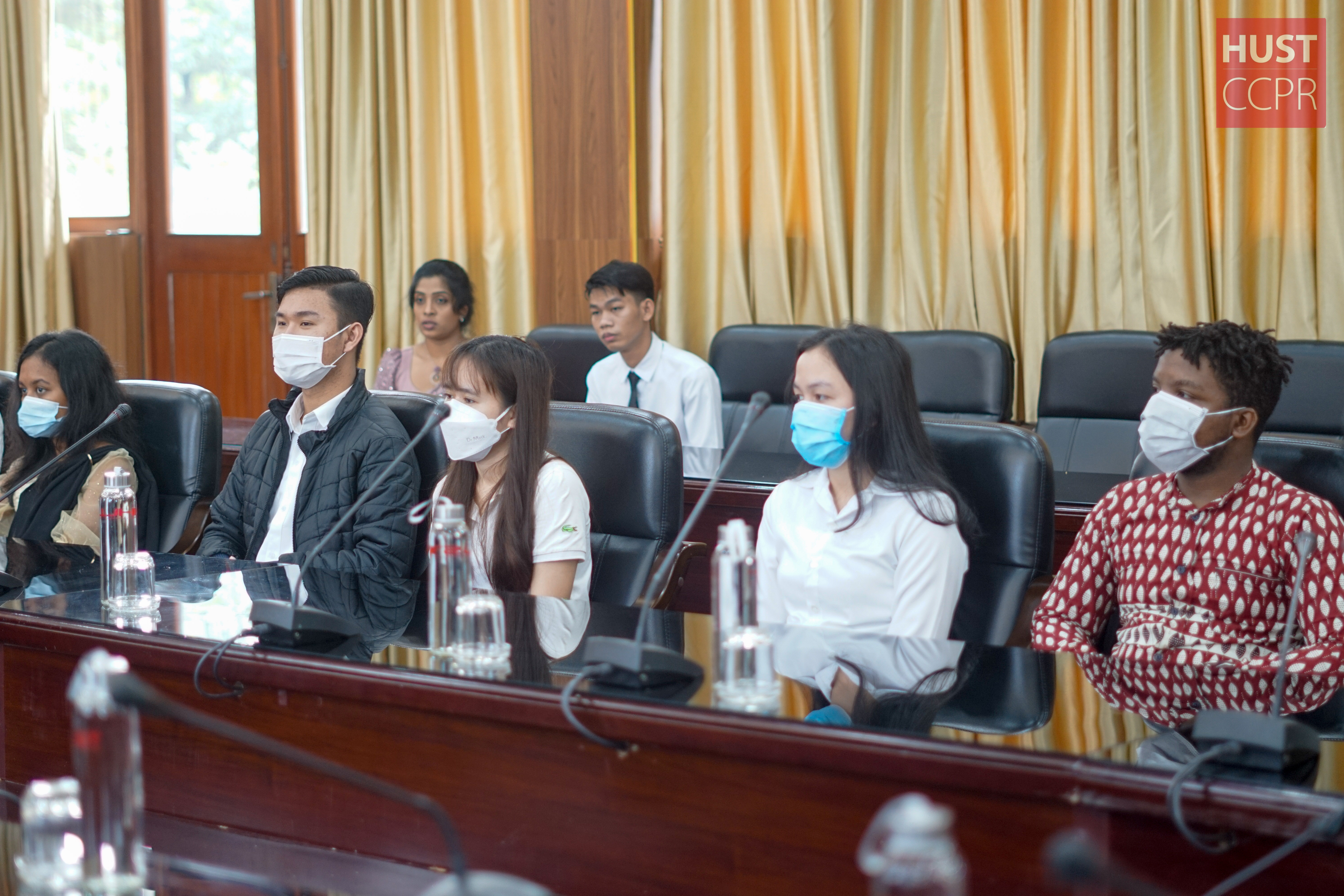 Representative international students at the meeting. Photo: CCPR
During the ceremony, 4 international students were awarded Certificates of Merit from HUST President to recognize the contributions of collaborators in many international student support activities. In addition, three Tet gift sets were given to international students living in 3 dormitories on the campus.
Vun Liem, a Cambodian student, currently studying Mechatronics, School of Mechanical Engineering, is the first international student to receive an Excellence Scholarship at Hanoi University of Science and Technology.
"We are really lucky to study at a university full of warmth and sympathy. My teachers and classmates always create favorable conditions and are ready to help us to overcome many difficulties", said Vun Liem at the meeting.
HUST is changing university enrolment requirements to make it easier for foreign students to study at the universities. In 2020, HUST for the first time has introduced two other selection methods. The "multiple admission methods" both online and offline are expected to embrace the potential students' distinctive strengths while ensuring their chance of enrolling in the university regardless of their locations.
Hanoi University of Science and Technology currently has more than 130 foreign students from 15 countries, mainly from China, Korea, Cambodia, Laos, Sri Lanka, Palestine,...
CCPR