https://www.hust.edu.vn/en/news/campus-life/important-milestone-for-cooperation-relationship-between-hust-and-hungarian-and-russian-universities-358946.html
From the 5th to 12th of September, 2018, the President of Hanoi University of Science and Technology (HUST) had joined with other representatives from more than thirty universities of Vietnam in a visit to Russia and Hungary. The trip was under the operation of Ministry of Education and Training, with purposes of elaborating educational cooperation, establishing and deploying effectively the commitments between Vietnam and both countries in education and training.

This trip's main event was The Second Vietnam – Hungary Universities' Presidents Conference on September 11th, 2018 in Budapest, during the official visit to Hungary of Vietnam Communist Party General Secretary, His Excellency Nguyen Phu Trong. The Conference had been participated by 28 universities from Vietnam and 20 others from Hungary. "In recent years, the cooperation relationship between Vietnam and Hungary in term of education and training has been enhanced and developed, with various achievements. Vietnam especially appreciates 200 annual scholarships from the Government of Hungary for Vietnamese students in all levels, of which Hungary has been famous for their advantages", H.E. Nguyen Phu Trong stated during the opening session.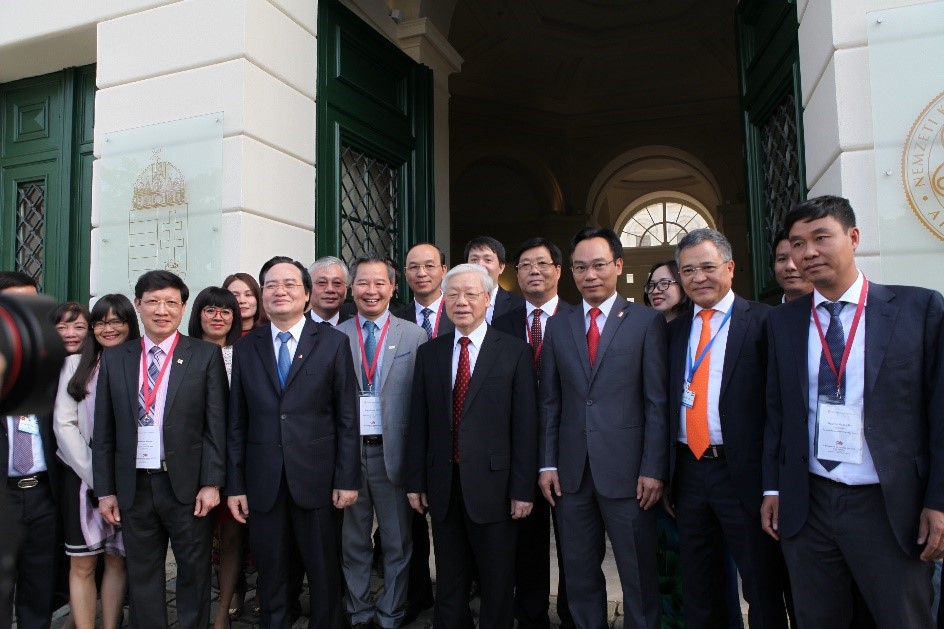 His Excellency and the delagates of the Conference
At the Conference, Assoc. Prof. Dr. Hoang Minh Son – the President of HUST delivered the speech of "ELITECH – Excellent academic programs at HUST: Opportunities for International Collaboration". During the same day, the Signing Ceremony for MOAs between the universities of Hungary and Vietnam was organized in Corvinus University of Budapest, with the witness of H. E. Nguyen Phu Trong. Assoc. Prof. Dr. Hoang Minh Son officially signed the cooperation agreement between HUST and Budapest University of Technology and Economics (BME). This marked a new leap for the relationship between both universities, which partnered since 2002.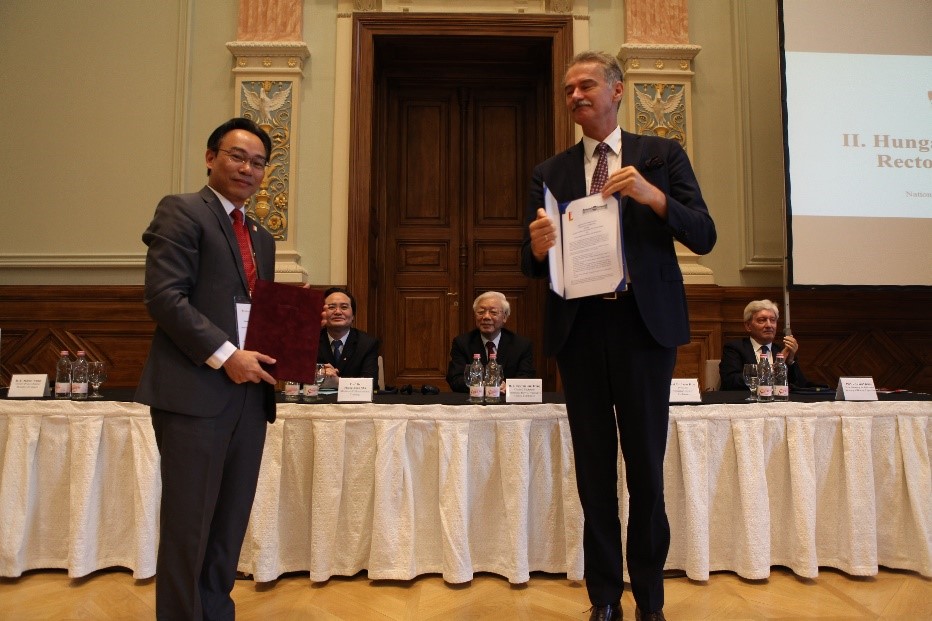 The Agreement Exchange between HUST and BME
The delegation also visited universities in Russia Federation for collaboration opportunity discussion. On September 7th, 2018, Mr. Hoang Minh Son, along with the delegation, had come to National Research University "Moscow Power Engineering Institute". The Agreement Signing Ceremony between universities of Russia and Vietnam occurred in the same day was an important contribution to the close educational cooperation between the two nations. In addition, HUST and Admiral Makarov State University of Maritime and Inland Shipping (AMSUMIS) had signed a cooperation agreement, along with a protocol on research collaboration between two universities in developing submarine unmanned devices for undersea controlling and seabed exploration.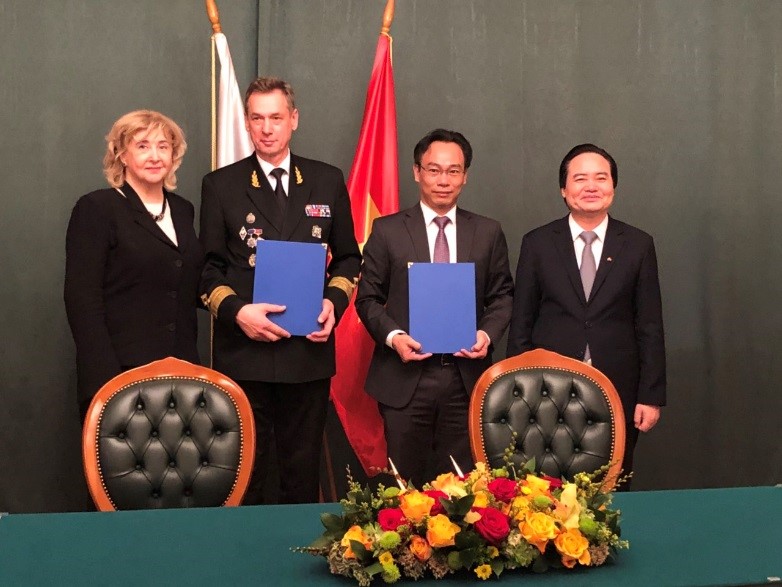 HUST – AMSUMIS Signing Ceremony
The delegation of Ministry of Education and Training finished on September 12th, 2018, opened up various opportunities for HUST with Russian and Hungarian universities.
CCPR
Email: ccpr@hust.edu.vn