https://www.hust.edu.vn/en/news/campus-life/7-impressive-keywords-about-the-hust-student-science-research-and-innovation-month-639319.html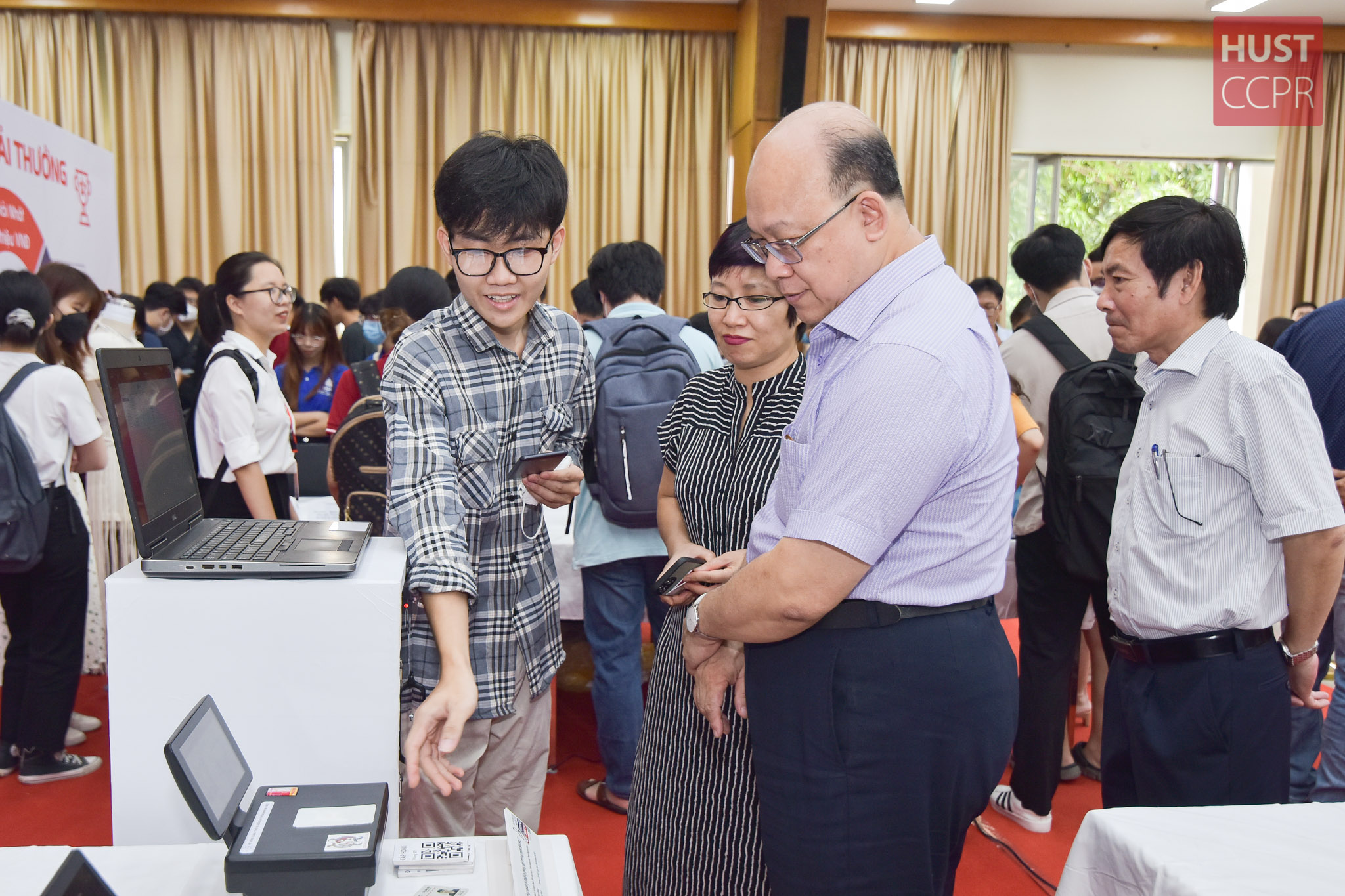 More than 900 HUST students participated in the 39th Student Research Conference to present nearly 300 research topics to 22 subcommittee councils, highlighting their projects' originality, creativity, and practical applications.
900
This year, regardless of their age, more than 900 HUST students from 22 subcommittees participated in a series of scientific research activities including presentations, a product exhibition, and a review conference… This demonstrates the tradition and rich legacy that are inherited by the young researchers from their predecessors in the research labs for students.
At the Review Conference, Assoc. Prof. Huynh Dang Chinh, HUST Vice President, proudly shared: the long-distancing study during COVID-19 could not subside the passions of HUST students for science and research.
300
The quality of the research is very impressive and highly regarded by the council. Nearly 300 science research topics, rich in content and highly applicable, were presented at the conference, with the project introduction printed on the information posters stick to the boards outside each subcommittee room. The posters were easily accessible by all attendants of the conference, encouraging participants to join and listen to their interested presentations.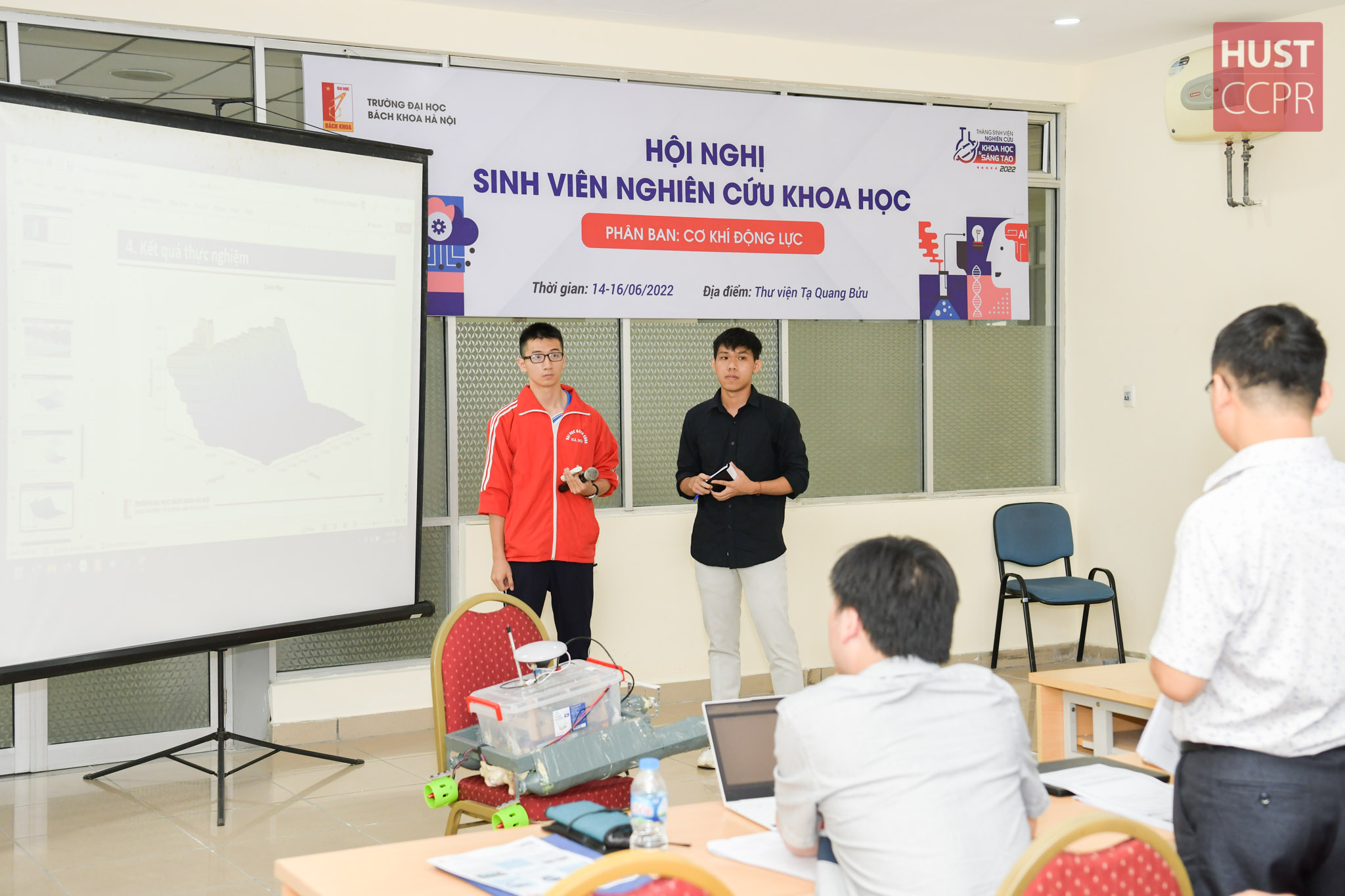 Students presented to the subcommittee councils at the conference
According to Assoc. Prof. Huynh Dang Chinh, HUST is currently focusing on 4 areas of technology and engineering, including Data, Digital Transformation; Advanced Materials, New Materials; Sustainable Energy and Environment; and Health. Thus, these are mainly the orientation of this year's research topics.
The consistency of the scientific research's quality and applicability is reflected in the increase of high-quality publications by over 50% and the unchanged total number of projects at 70-80 products across 22 subcommittees.
"I'm very pleased to see that the number of high-quality publications with students as main authors and corresponding authors is nearly 20, accounting for 25% of over 80 papers with the undergraduates' participation", said Assoc. Prof. Huynh Dang Chinh.
Q1
81 publications at international conferences and journals are reported from this conference, including 21 ISI articles, 16 Q1 articles, and 39 students as first authors or corresponding authors.
At this prestigious scientific research playground with expert researchers from HUST, presenting their work to the councils is an invaluable opportunity to compete, horn their skills, debate, and convince others of their papers' superiority and effectiveness.
Some research has been applied to solve practical problems, while some are basic research that focuses on the advancement of knowledge, later becoming the foundation for future application trends.
Creativity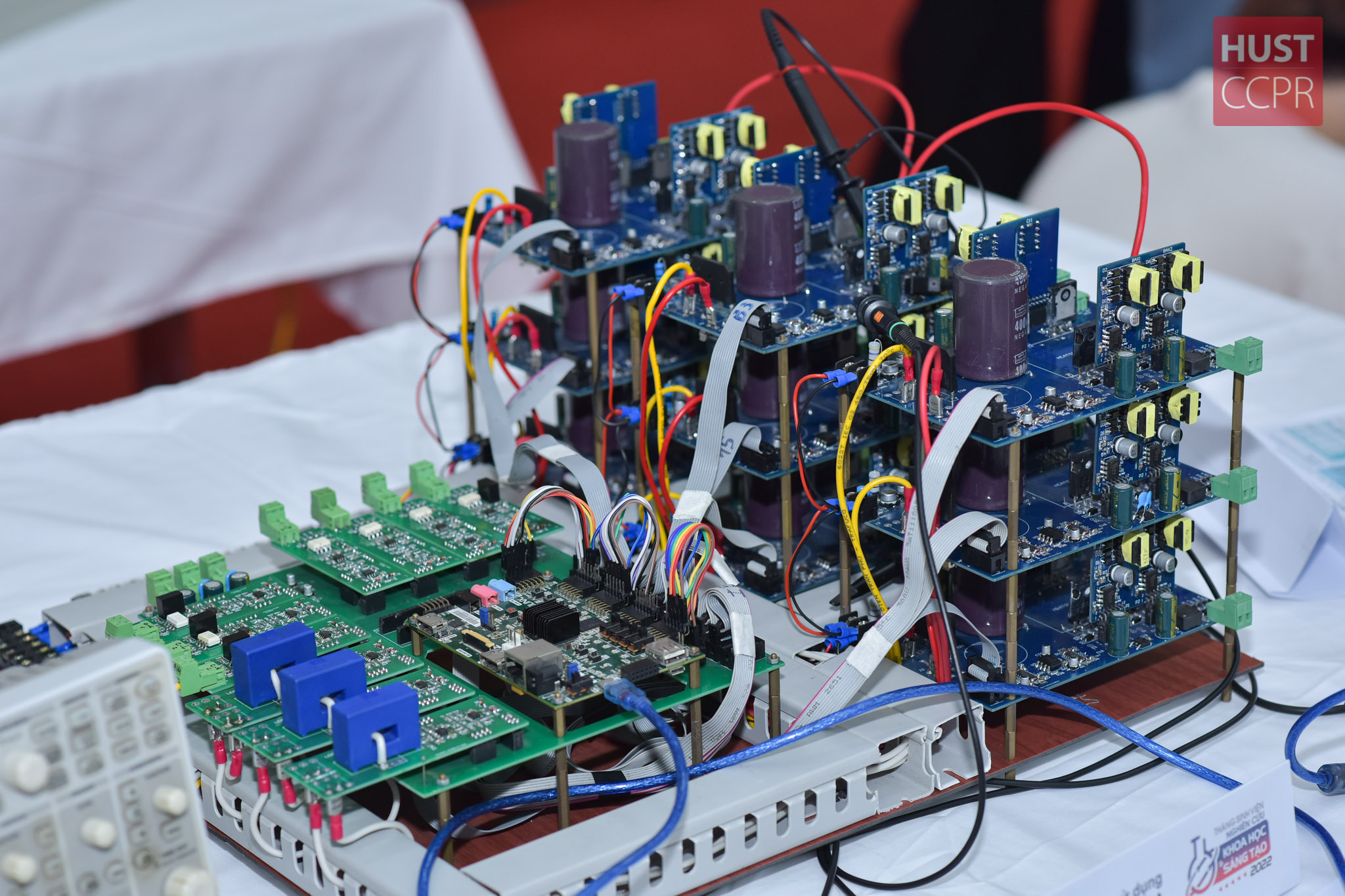 One of the research product participated in the exhibition
During the HUST Student Research and Innovation Month, the University held an exhibition of many science products in the fields of Medicine, Agriculture, New Materials... These products are highly related and necessary to daily life.
All the attending projects impressed people with their uniqueness, creativity, interdisciplinarity, and high scientific and practical values.
Some students applied Artificial Intelligence in the electricity forecasting, while others focused on developing applications related to health, agriculture, and the environment such as the manufacture of gas sensors and measuring devices applied in monitoring toxic gas concentrations, or the application of machine learning models in identifying sizes of agricultural products…
Start-ups
Visiting the displayed projects at the Product Exhibition, Assoc. Prof. Huynh Quyet Thang, HUST President, was confident that these science research results, if invested, can be fully developed into start-up companies or products that stand out in the market.
It is known that in order to support the "Make in HUST" products, the top 1 engineering and technology university in Vietnam has an Innovation Startup Ecosystem based on the most successful startup ecological models in the world.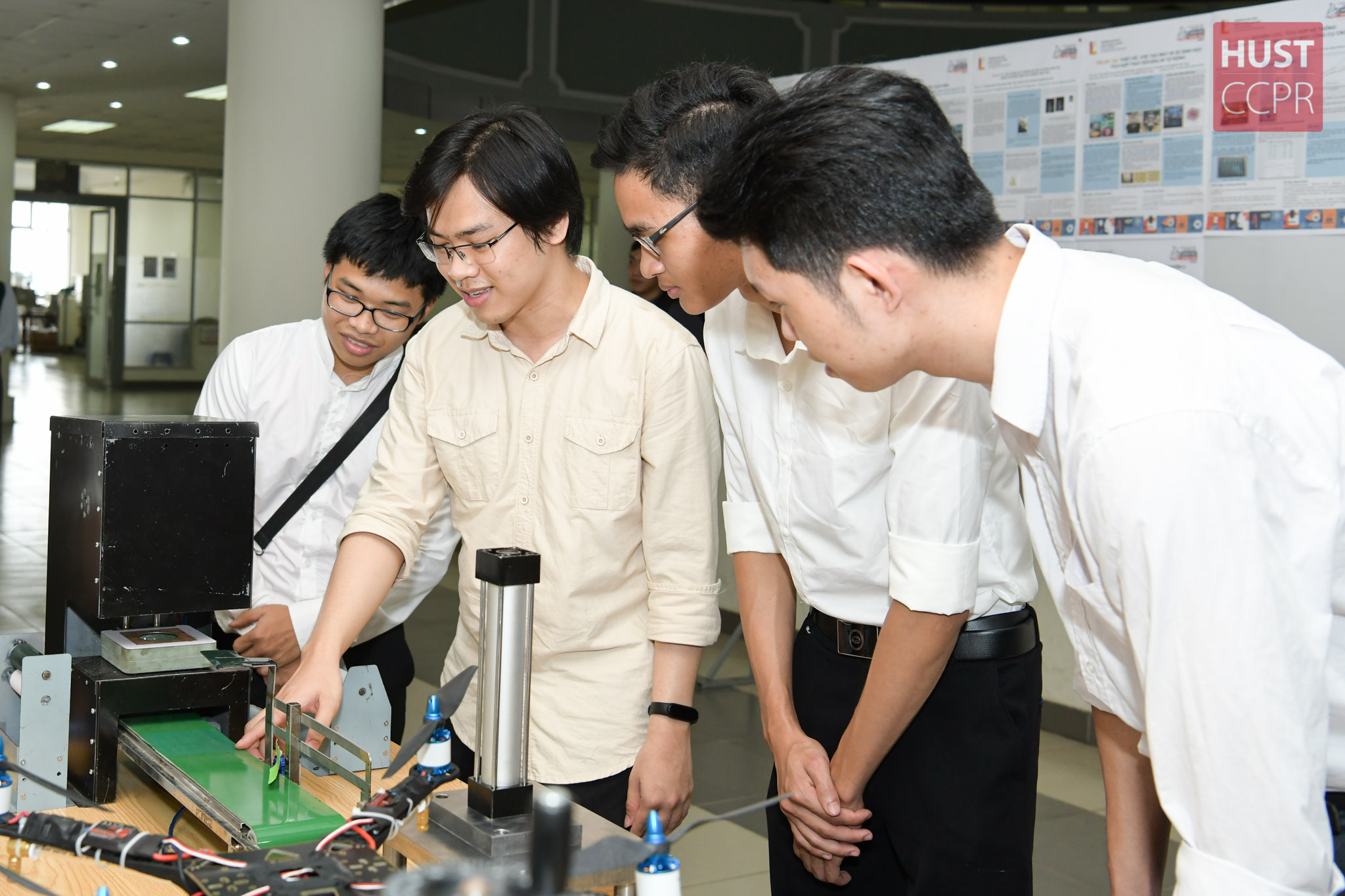 Assoc. Prof. Huynh Quyet Thang expected the number of start-ups from students and the number of spin-off companies from the science research would increase, and financial contributions from these businesses would be made to HUST's ecosystem. This successful model will promote innovation and scientific research activities of lecturers and students of Hanoi University of Science and Technology.
Some special guests
Many students' science research projects from the School of Mechanical Engineering have been supported by enterprises right at the time when they are presented to subcommittees.
An enterprise shared: From our point of view, our benefits were the access to new ideas of young people, thus promoting cooperation opportunities and stimulating HUST engineer recruitment.
Another businessman was happy to follow such scientific research contests from HUST to give encouragement and timely support to students and researchers. "We can find creative ideas and science topics, or even a product that can replace an oversea brand!", he added.
Not only businesses, but other universities also showed their interest in their visit at the Review Conference. Colonel Le Thanh Phong, Deputy Head of Military Science Office, Military Technology Academy, was very impressed with the numbers of this year's series of scientific and creative student events.
"The data shows that HUST has implemented the research movement among students comprehensively. It is interesting to see how the University takes advantage of the investment sources so winning projects can continue to develop and "live" afterward," he said.
Young Innovator Challenge 2022
At the Review Conference, Assoc. Prof. Nguyen Phong Dien, HUST Vice President, launched the Young Innovator Challenge 2022 with the theme "Smart-up for life", aiming at the development of start-up application products in transportation, education, environment, sea and islands, industry, agriculture, and health...
HUST leaders expected that the scientific creativity and multi-disciplinary thinking of students from the Young Innovator Challenge will be nurtured by in-depth research development projects and start-ups.
Young Innovator Challenge is an intellectual playground organized annually by HUST since 2017. Since 2019, the competition has expanded its participant range to universities in technology and economics from all over Vietnam.
HUST Student Science Research and Innovation through numbers:
927: Number of attending students;
359: Number of guiding lecturers/researchers;
299: Number of participating projects;
168: Number of reports presented at the subcommittees;
81: Number of international scientific articles, including 21 ISI articles; 16 Q1 articles, and 39 students as first authors, corresponding authors;
76: Number of displayed products in the exhibition.
Reporting by Dieu Ngoc, translating by Ha Kim