https://www.hust.edu.vn/en/news/news/meet-our-international-exchange-students-in-the-fall-semester-2022-651370.html
On September 20, Assoc. Prof. Nguyen Phong Dien, Vice President of Hanoi University of Science and Technology (HUST), met 26 international exchange students from France, Germany, Sweden, and South Korea to exchange for one semester in the fall of 2022, and one Ph.D. student from Clermont Auvergne University (France).
At the meeting, Assoc. Prof. Nguyen Phong Dien said: Student exchange is one of the priorities in the strategy for HUST's development. He expressed his delight when the university is chosen as the most attractive destination for excellent students majoring in science, technology, and engineering in Vietnam. In 2022, HUST is in the top of 291-290 best universities in Asia, according to QS World University Rankings
"Being the pioneering position in the Vietnamese higher education system, to train the next generation of engineers and young researchers in Vietnam to become global citizens in the future, HUST commits to provide students a professional and multi-cultural academic environment", emphasized the Vice President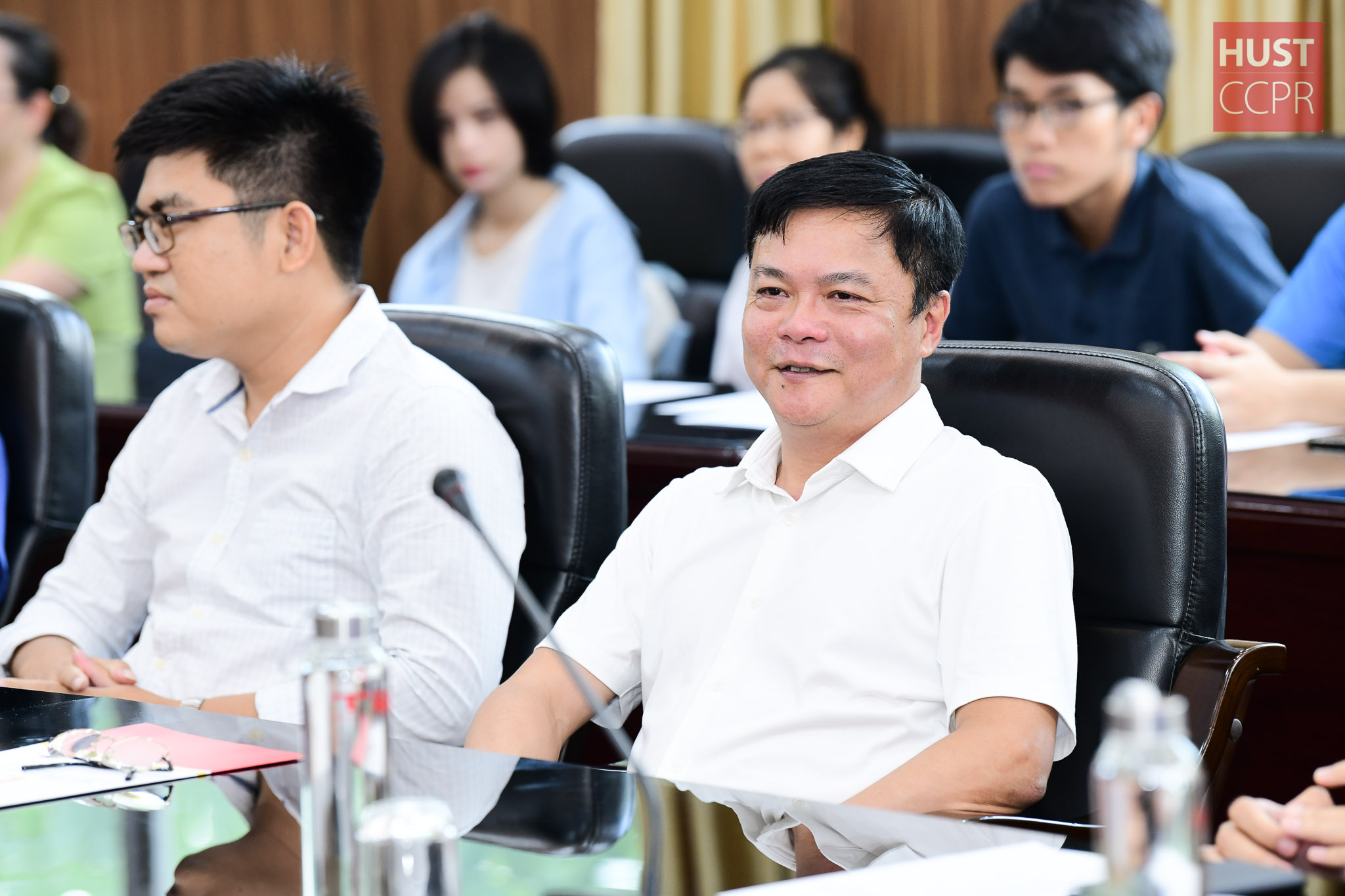 Assoc. Nguyen Phong Dien, Vice President of HUST speaks at the meeting with international exchange students on September 20. Photo by: CCPR.
Also at the meeting, Assoc. Prof. Dr. Huynh Thi Thanh Binh, Vice Dean of the School of Information and Communication Technology (SoICT), HUST, showed her wish that international exchange students will have wonderful experiences at HUST. Furthermore, she hopes that there will be more students from all over the world choosing HUST as the destination to spend their exchange.
Besides, Assoc. Prof. Nguyen Xuan Quyen, Vice Dean at the School of Electrical and Electronic Engineering (SEEE), HUST, shared at the event: "This is not only a learning opportunity but also an opportunity for you to discover Vietnamese culture and cuisine. I hope that when you go back to your homeland after the exchange semester, you will become the connection that contributes to the cooperation relationship between research institutes, and universities of the two countries.
In addition to the learning program in the fall semester, HUST also organizes many extra-curricular activities for the boys and girls such as a tour around Hanoi to explore the culture and enjoy nature in the suburbs of the city; a Vietnamese language course, expected to last 10 classes including language lectures, cultural workshops, and Vietnamese cooking classes; a photograph/video contest open to exchange students to capture the best memories and experiences at HUST and Vietnam.
The I-Buddy group introduced international exchange students to Vietnam at the meeting on September 20. Photo by: CCPR.
The meeting ended with an orientation session between the I-Buddy team and the international exchange students. The boys and girls were introduced to Vietnam as well as given much useful information for better life adaptation in a new country. Also, they had a chance to know more about HUST through the introduction of I-Buddy team members and some regulations for international exchange students at the university.
Hanoi University of Science and Technology hopes that the fall semester for international exchange students will be a rewarding and unforgettable study abroad experience in their student life, helping them to have a practical and interesting perspective on HUST as well as Vietnam.
EAO - HUST