https://www.hust.edu.vn/en/campus-life/alumni/the-technology-giant-lu-thanh-long-hanoi-university-of-science-and-technology-hust-to-become-the-number-1-university-in-asean-555740.html
Entrepreneur Lu Thanh Long, alumnus of the School of Information and Communication Technology - Hanoi University of Science and Technology, is now the Chairman of MISA Joint Stock Company. After graduating from Hanoi University of Science and Technology, he has strong enthusiasm and passion to support HUST.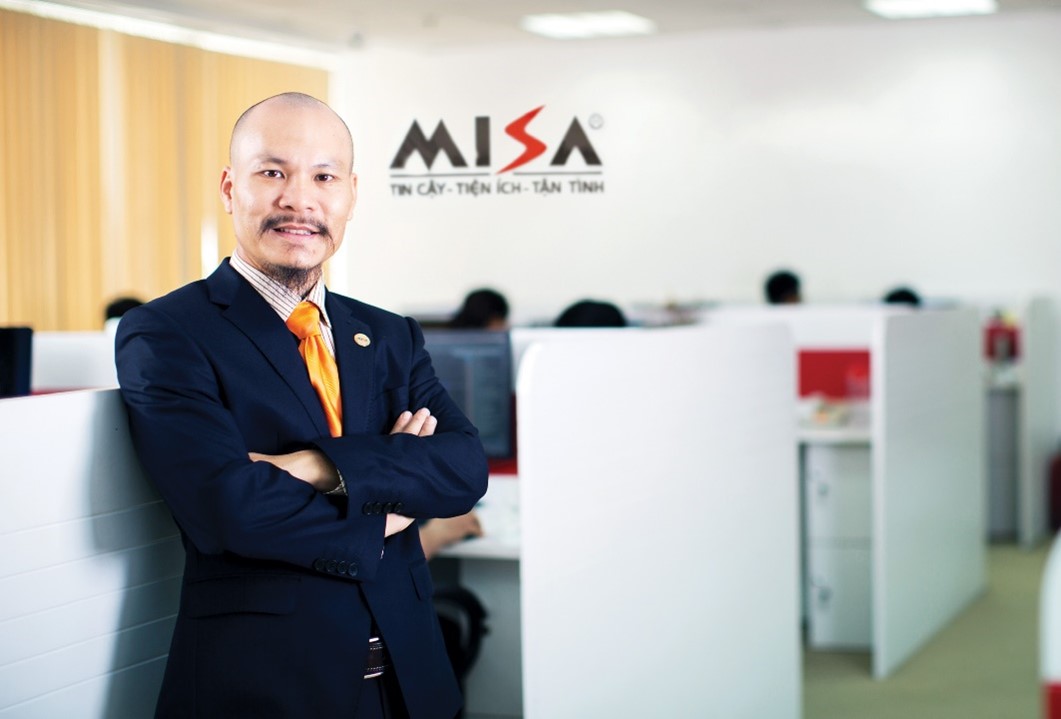 Entrepreneur Lu Thanh Long - Chairman of MISA Joint Stock Company - K34 Alumni of Hanoi University of Science and Technology
The journey from an IT student to be the head of a trillion business
When being asked about his predestined relationship with Hanoi University of Science and Technology, the entrepreneur shared that he had considerable influence from his father - a former student of the Faculty of Radio and Electronics (1964-1968). When he was a child watching his dad fixing televisions, assembling radios while telling passionate stories about electronics, the technology passion seeped into his heart.
Just like that, he took the path of technology and nurtured this passion for more than a quarter of a century to assert MISA's position on the information technology map of the country and on the way to reach out to the region. More than 250,000 customers who are government agencies, businesses, individual households and nearly 2 million individual customers trust software, platforms and applications that the team MISA built throughout its history.
For entrepreneur Lu Thanh Long, the path from a startup with only a few people to a company with nearly 2,500 employees of MISA always exemplifies HUST's people as MISA's team has a lot of HUST students. For decades, they have generally left a good impression on him that they have good knowledge, honesty, and diligence. Therefore, their dedication is always a part of creating a stable MISA after more than 26 years and continuing to grow in the coming time.
3T - The culture of HUST people
With entrepreneur Lu Thanh Long, talking about HUST is talking about the "quality" of the 3T culture of technical people: Straightforward, honest, and confident. These qualities are important factors to create people who are passionate to serve and contribute to the successful development of society.
Mr. Long also talked about his stories when he was still at school. He had a good memory of HUST lecturers' love for their students and their great aspirations and inspiration to for creating positive influences to the country. He recalled three teachers that he pays a great deal of love and respectation. Mr. Nguyen Thanh Thuy passionately advised and guided his whole class to write 2 best-selling books since he was only a 3rd and 4th year student. Mr. Bui Quang Ngoc shared with him rich experiences of working with industry. His dream of making a useful software product was inspired by Mr. To Thanh.
Mr. Long also confessed that he got a scare of 2 subjects, namely General Mechanics and Technical Drawing. However, he needs a lot of knowledge from these two subjects in his current work Now when thinking back about these subjects, he realizes that although they are not related to IT expertise, they are much more related to life skills and useful in some ways
Expecting HUST to rise strongly in the new context
The 4.0 era poses the problem of digital transformation to the whole society. In particular, the wave took place stronger and deeper than ever when the COVID epidemic occurred. To solve that problem, Mr. Long emphasized the role of human resources. Previously, the task of HUST was to train human resources for state-owned units, but ever since the country renewal, most of graduates have been working for enterprises. Since then, teaching and learning have been also associated with the needs of the domestic and international market.
The most obvious evidence is that, in order to keeping up with the general trend, Hanoi University of Science and Technology has promoted admission activities for new disciplines in data and artificial intelligence, attracting the attention of many students. From Mr. Long's perspective, this change shows Bach Khoa's readiness to transform strongly to become the top university in the ASEAN region.
(Photo) In 2020, Mr. Lu Thanh Long officially joined HUST investment fund to accompany the start-up projects of BK students.
Accompanying Bach Khoa to the journey of transformation, entrepreneur Lu Thanh Long expresses his willingness to support the school's programs in promoting the development of a new generation of human resources for society.
He also gave HUST students some good advice which Steve Job - former CEO of Apple often said. This is "Stay Hungry. Stay Foolish" and which the glory will come.
EAO - HUST